Consumer Goods: THE CURRENT CONSUMER GOODS & RETAIL LANDSCAPE
Custom Content by the Los Angeles Business Journal
Tuesday, March 6, 2018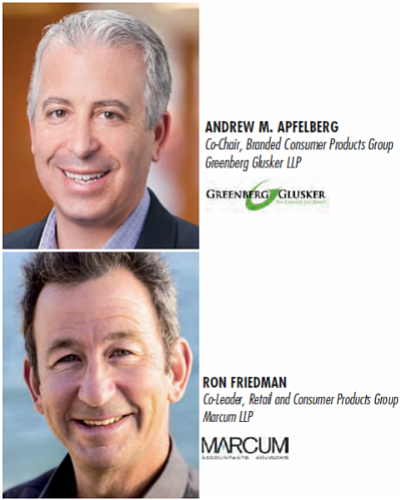 To take a closer look at how the consumer goods and retail sector works, we asked Andrew Apfelberg, Co-Chair of the Branded Consumer Products Industry Practice Group at Greenberg Glusker; and Ron Friedman, Co-Leader of the Retail and Consumer Products group at Marcum LLP, to weigh in for a discussion.
What do you anticipate is ahead for retail in the US?
FRIEDMAN: Retail has been weak for many years, but we finally saw some light at the end of last year. Sales for the holiday season were stronger than they've been in a while, as consumer confidence continues to improve. Nonetheless, retailers need to change with the times -- their survival will depend on it. We can expect that of the 900 malls in the United States, 300 will be gone in the next five years. The remaining 600 malls are being reconceived, or will be, to create a new kind of destination venue that is completely different from the retail malls of today. The Westfield Century City Mall is a great example of what is ahead for retail. Malls that were once apparel-centric will be replaced with a different variety of stores and experiences for shoppers. We can expect to see more restaurants, health clubs, movie theaters, bowling alleys, bars, clubs, concert halls, and even health care centers.
How would you describe 2018's overall climate for retail in Southern California?
APFELBERG: 2018 will continue the evolution of retail from a traditional brick and-mortar experience to an in-person/ on-line hybrid. I expect on-line sales to expand as manufacturers are increasing their direct-to-consumer emphasis and the delivery cycle is being shortened each day. Traditional stores will likely pivot to more of a "showroom" model (as Restoration Hardware has done) or a "concierge" model (as Nordstrom has done). I am not bullish on shopping malls but think that neighborhood retail centers will flourish (as will stores like ULTA that built a strategy around them).
How will the Trump administration impact the consumer goods landscape moving forward?
FRIEDMAN: The tax cut will give the average American more money in their pockets starting with their payroll checks in February 2018. These additional funds will be used to lower individuals' debt or to be spent on purchasing more consumer goods. Consumer confidence is increasing. With all of this, more money will be spent on entertainment and consumer goods. Early indicators are that businesses have been expanding which is a good sign for future growth in the economy.
For reprint and licensing requests for this article, CLICK HERE.
Prev Next