Consumer Goods: Report on Consumer Packaged Goods Supply Chain Sheds Light on Challenges and Steps Forward
Custom Content by the Los Angeles Business Journal
Monday, March 5, 2018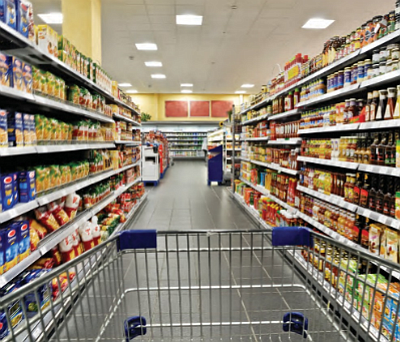 Online shopping, new digital technologies, and increasing channel fragmentation are intensifying the pressures on US consumer packaged goods (CPG) supply chains. There are clear steps CPG companies must take in order to prepare, according to a new report authored by The Boston Consulting Group (BCG) and commissioned by the Grocery Manufacturers Association (GMA).
The report, "How CPG Supply Chains Are Preparing for Seismic Change," highlights the top trends affecting CPG supply chains and the effect on CPG companies' performance. Among the issues addressed in the report: e-commerce sales growth, service level performance, channel proliferation, network design, and cash management trends. The report is based on the 2017 Supply Chain Benchmarking Study, a study of the US units of more than 30 leading CPG companies conducted jointly by BCG and GMA.
"It's been a turbulent couple of years for the grocery industry, with major disruption and dislocation in the retail landscape," noted Daniel Triot, senior director of the Trading Partner Alliance of GMA. "Despite the important performance gains in the supply chain in the past two years, CPG companies cannot be complacent. This report aims to provide guidance for CPG companies looking to harness new digital technologies and trends to support continued growth."
KEEPING UP WITH E-COMMERCE SALES GROWTH
Over the next two years, half the growth in North American grocery sales will come from e-commerce. But only 6% of CPG companies have a dedicated e-commerce supply chain team, and only 3% are able to fully track sales by channel. As US consumers increasingly come to rely on the digital marketplace for their product needs, the lack of readiness could cause companies to fall far behind in securing their share of customer wallet.
"In the digital world, critical mass is won quickly," said Elfrun von Koeller, a BCG partner and coauthor of the report. "And once won, it's hard to dislodge. So CPG companies can't afford to sit this out—their existing supply chains are often not well placed to deliver to these new channels."
CHANNEL PROLIFERATION SQUEEZES SERVICE LEVELS
According to the report, channel proliferation is the greatest impediment to on-time delivery performance. For example, median on-time delivery rates (requested arrival date, or RAD) to online retailers was just 64%. Says von Koeller, "E-commerce introduces additional fragmentation to an already fragmented network, thus compounding the significant distribution challenges CPG companies already face."
Among the report's other key findings:
• CPGs companies carry the weight. CPG companies bear 60% of logistics costs and hold roughly 50% of the inventory. That burden may well increase.
For reprint and licensing requests for this article, CLICK HERE.
Prev Next