Meetings & Events: 10 Tips and Hacks for a Successfully Catered Event
Custom Content by the Los Angeles Business Journal
Thursday, March 1, 2018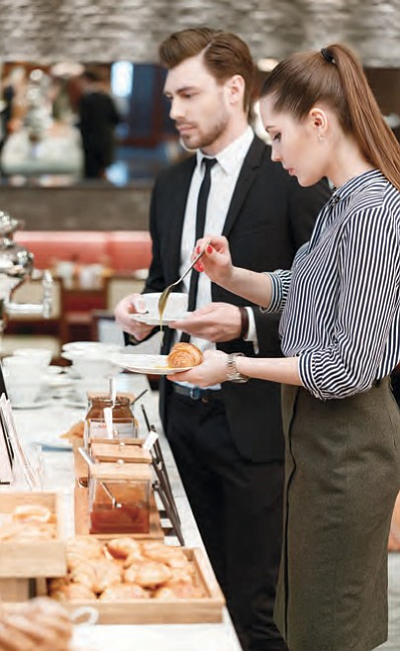 When you are handed the daunting task of organizing the catering for the office, business or even private party, it's hard not panic, especially once you start browsing on-line at the million and one options when you search the term "party food" or "catering," the mind melts, where do I start? The options are far and wide.
The best place to start is to ask yourself what size of event am I undertaking here?
Big events (100 people or more) take a lot of work and you will definitely need professional help. But if you are catering for less than 100 people it is definitely possible to organize this with a minimum of fuss, if you answer ten basic questions:
Do you have a budget?
What time is your event?
How long will you need food?
Who are you feeding?
Is it a meal or something just to eat?
Is it standing or sitting? Or both?
Are there any special dietary requirements?
Is there a place to prepare and serve the catering?
Do you need staff or self serve?
Who is cleaning up?
1. Do you have a budget?
Everyone has a budget, even if you haven't formalized it yet. It's first thing to finalize. Try your hardest to stick to it, otherwise things can get out of control and you could be in a lot of trouble with your boss.
2. What time is your event?
This determines the style of food you need, do you need breakfast, lunch, dinner or just something to absorb the alcohol before people move on.
3. How long will you need food?
Sometimes people come and go from parties so it's important to cater to everybody as they arrive at the party, this is the definition of a good host. Sometimes people also want something later in the night, midnight munchies are not uncommon at many modern weddings.
4. Who are you feeding?
Gender and age go a long way in determining what type of food, how much food, what quality food, that you are preparing to serve. It's so obvious a point that it's something that people forget to consider – they think we all eat the same amount, but that's not true. This can determine whether you over order or under order the amount of food for your function.
5. Is it a meal or something just to eat?
Subsequent to all the questions up to number four, this point will answer itself once you have examined the guest list, the time of eating, the style of party, whether you want something substantial or just something to tickle the fancy.
6. Is it standing or sitting? Or both?
This is an important question because finger food and seated dining are two very different types of catering. Canapés can start the night on a special note, then the chef can whip up something very special for your seated occasion. It's also worth noting that canapés or finger food are not going to fill people up, unless you have 10 to 12 per person.
7. Are there any special dietary requirements?
More and more we are seeing that people are allergic to food, this can cause anaphylactic reaction which can cause severe injury or even death. This means you have to be on top of your game when ordering food for people with allergies. The other issue concerning this question is the diversity of food lifestyles on offer - i.e. vegans, vegetarians, et cetera.
8. Is there a place to prepare and serve the catering?
This is important for yourself or the catering company to know, as experience tells us that if you don't have a private or semi-private area to organize your food, then interruptions and general confusion will reign, you've heard the saying – too many chefs spoil the broth!
9. Do you need staff or self-serve?
Sometimes people like to do these things on their own, which will save a lot of money. This is definitely possible, as so many people these days are such good cooks, however there are other options available. Our company - Box Catering in Sydney - does drop off catering. Drop off catering is where chefs prepare the food to the point where it's ready to serve and load it into temperature controlled boxes, be they hot or cold, and those boxes are delivered to the party venue, ready for the customer to serve when he or she is ready. This is a great option for many people, especially as all the food can be ordered online and we are always available for consulting if you need any help.
10. Who is cleaning up?
The rule in many homes is that if you cook you don't clean. However this might not apply as your business event winds up, just be sure to have people allocated otherwise it will fall in your lap.
Information for this article was provided by Box Catering.
For reprint and licensing requests for this article, CLICK HERE.