Toyota Campus Plan In Focus
REAL ESTATE: New owner to add industrial in Torrance
Friday, June 29, 2018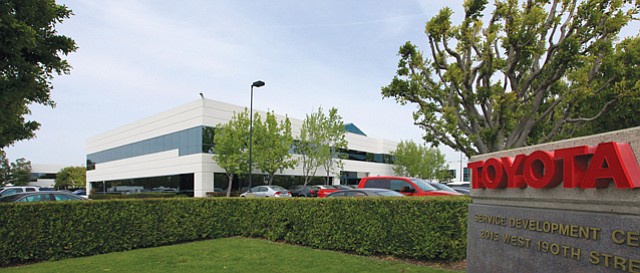 Sares-Regis Group Inc. is starting to take the wraps off its plans to redevelop Toyota Motor Sales U.S.A. Inc.'s former North American headquarters in Torrance.
The Irvine-based commercial real estate developer and investor paid a reported $270 million in October for the sprawling – and now largely vacant – 117-acre campus alongside the 405 Freeway in the heart of the South Bay.
The deal was one of the largest commercial property transactions seen in Southern California last year, and gives Sares-Regis one of the larger chunks of developable property in the region.
Toyota put the property up for sale after announcing in 2014 that it would move its U.S. headquarters to Plano, Texas from Torrance. The Tokyo-based automaker had run its U.S. operations from Torrance since the late 1960s.
The move was completed last year.
The property Sares-Regis bought has a mix of about 20 older offices and industrial buildings totaling close to 2 million square feet, plus excess land.
A redevelopment had been anticipated since the sale, though no specifics were announced at the time of last year's transaction.
Among other uses, the site has been pitched as a potential L.A.-area home to Amazon.com Inc. for its second headquarters search, a multicity competition that continues.
Sares-Regis executives have said that the campus, when ultimately redeveloped, could hold upwards of 4,000 employees.
Roughly 3,000 Toyota workers had been working at the site prior to the Plano relocation.
Douglas Park echoes
Industrial product, not an Amazon office, is the first piece of development at the site, according to Larry Lukanish, senior vice president of Sares-Regis' commercial division.
A three-building industrial development totaling nearly 450,000 square feet will break ground this summer, Lukanish told the Orange County Business Journal last month at the company's headquarters.
The project will be the intersection of Van Ness Avenue and Toyota Way, on a parcel of land Toyota used for excess parking.
The three buildings will include a small amount of high-end offices alongside core warehouse and distribution space, and should look much like the product the company developed at its Douglas Park development in Long Beach, also along the 405 freeway.
The Douglas Park buildings have been snapped up by a variety of area businesses to serve as their headquarters and main distribution and manufacturing facilities.
Sares-Regis has overseen development of much of the 220-acre Douglas Park project since buying the land from Boeing Co. in a series of transactions starting in 2011.
Prev Next
For reprint and licensing requests for this article, CLICK HERE.