Port Container Facility Moves Forward
Requests for comment kick off EIR review process for $130M cargo project
Friday, June 29, 2018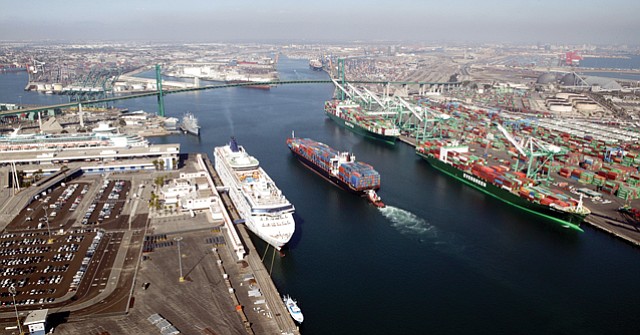 The Port of Los Angeles put out a request for comments from stakeholders last month – an initial step towards building the proposed Harbor Performance Enhancement Center, a planned container staging facility that already has $130 million in committed funding.
The study is the first step towards submitting an Environmental Impact Report (EIR) as required by the state. EIRs provide the public and the decision-makers with detailed information about a project's environmental impact.
The goal of new container facility is to increase efficiency in cargo movement by utilizing a parcel of land on port property – a plot located on Terminal Island at 300 S. Ferry St. and 750 Eldridge St. The facility is intended to create a peel-off yard to provide 24-hour, seven-day-a-week access to container storage which would be utilized by neighboring Port of Long Beach as well. Neither port currently provides continuous access to containers.
The property was formerly occupied by Los Angeles Export Terminal and U.S. Customs and Border Protection, port officials said.
Harbor Performance Enhancement Center (HPEC), which is the name of the facility as well as the organization behind the project, is backed by the port and a consortium led by Jonathan Rosenthal, chief executive of HPEC and chief executive of Sawtelle-based investment firm Saybrook Corporate Opportunity Funds.
The public-private partnership announced in April that it had tapped Macquarie Principal Finance, a subsidiary of Australia-based financial services firm, Macquarie Group, to finance the project. Macquarie is reportedly providing the full $130 million in funding.
Wet Seal is Back
Wet Seal President Ramez Toubassy confirmed the company was making a return as an e-commerce retailer last week in an email to the Business Journal.
Toubassy also serves as the president of Boston, Mass.-based Gordon Brothers Brands, a subsidiary of Gordon Brothers, which acquired Wet Seal for $3 million after the retailer filed for chapter 11 bankruptcy for a second time in 2017.
Wet Seal raked in over $500 million in revenue with 478 stores as recently as 2014, according to Gordon Brothers website.
There are no plans for brick-and-mortar store, Toubassy said. In an interview with California Apparel News, he said, the focus is to "become an assetless brand company." This includes outsourcing retail, distribution and fulfillment to third parties, he told the apparel publication.
Wet Seal's clothes average price points are between $15 and $ 35, according to its website.
Port of Long Beach Green Efforts
For reprint and licensing requests for this article, CLICK HERE.
Prev Next