Cedars-Sinai Launches Program to Speed Up Treatments of Gut-Related Illnesses
Monday, June 25, 2018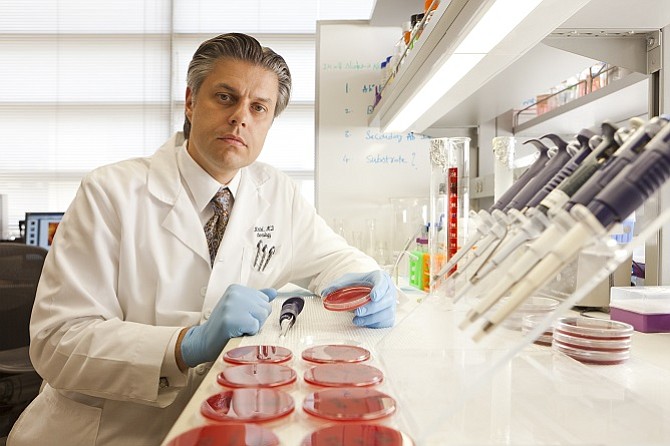 Cedars-Sinai Medical Center has launched a health initiative to speed the development of new drugs, medical devices and treatments for patients with gastrointestinal diseases.
The Beverly Grove hospital announced June 25 it had spawned a Medically Associated Science and Technology program (MAST) made up of physician scientists to focus on disorders of the gut.
"Through MAST, we are accelerating the development of innovations that will lead to faster diagnostic and treatments for patients," said Dr. Ruchi Mathur, MAST's director of clinical research.
MAST researchers concentrate on the microbiome – the ecosystem of single-cell organisms can help digestion and guard against infections. But the tiny gut bugs can also thwart healthy GI functions and are linked to irritable bowel syndrome and small intestinal bacterial overgrowth, which can cause chronic diarrhea and related illnesses.
The initiative by the Cedars-Sinai Technology Transfer Office and Burns & Allen Research Institute is now poised to develop new technologies, patents and commercial products. The hospital now earns roughly $30 million a year in commercial royalties from technology.
MAST investigators, including Dr. Mark Pimentel, have developed a breath test to identify hydrogen sulfide gas among patients with diarrhea. Their medical device may be commercially available by the end of the year.
They have also developed a system to safely, quickly and precisely collect samples from patients' small intestines. Their Lotus system has been licensed to Hobbs Medical Inc., of Connecticut, with royalties to be paid to Cedars-Sinai and its researchers.
"Discoveries best happen at the bedside of patients by doctors who are invested din their care," said Pimentel, executive director of the MAST program, in a statement. "We expect that, with the formation of the MAST program, we will be able to help millions more with our growing pipeline of novel diagnostics and therapeutics."
Health business reporter Dana Bartholomew can be reached at dbartholomew@labusinessjournal.com. Follow him on Twitter @_DanaBart.
For reprint and licensing requests for this article, CLICK HERE.