The Business of Accounting: A Discussion with the Experts
Custom Content from the Los Angeles Business Journal
Monday, June 25, 2018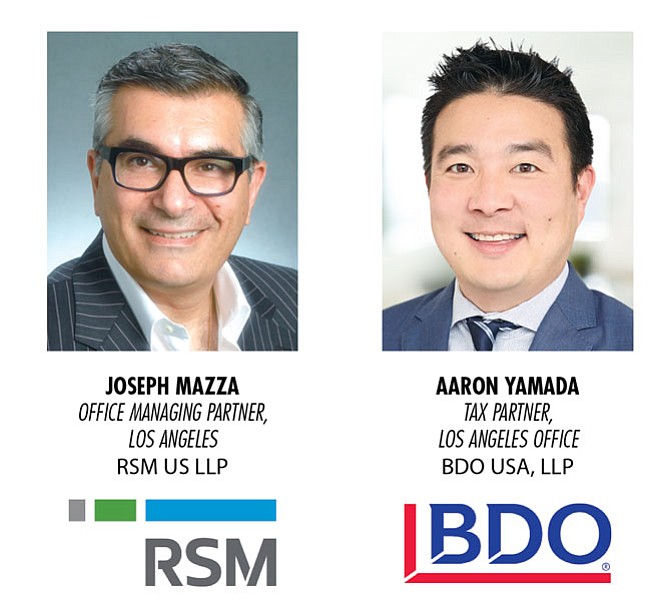 Yamada: The road is paved with a fair amount of uncertainty, particularly because there will be additional guidance coming out of the IRS and Treasury in the coming months. Some of the new provisions included in the law are incredibly complicated—the GILTI, BEAT, FDII, and Sec. 199A provisions all come to mind. And there isn't a one-size-fits-all solution. Modeling out the impact tax reform will have on effective tax rates and cash flows requires taking into account the nuances of each individual client.
Mazza: Tax reform will impact all businesses beginning in 2018. Here are a few important changes in the new law that will impact your clients. Under the new tax law, federal income tax rates on C corporations are reduced to 21% and a new 20% deduction on qualified business income for individuals, estates and trusts that own interest in pass-through entities. These changes could have an impact on entity choice and will affect the personal taxes of business owners. Enhanced bonus depreciation and Section 179 deduction rules are favorable changes to business owners. Bonus depreciation deduction has increased from 50% to 100% and Section 179 deduction increased from $500,000 to $1 million. These changes will allow companies to consider making larger capital improvements and an increase in tax deduction. Other not so favorable changes to the law are the limitations on net operating loss (NOLs) utilization, business interest deduction and disallowance of certain meals and entertainment expenses. These limitations can reverse a company's anticipated tax loss to a taxable income situation. Consult with your tax advisors and understand how the tax reform affects your business.
How would you forecast the fiscal outlook for businesses in California over the coming few years?
Yamada: Given all the forces at play it's likely to be a challenging time, and solid management will continue to be the key to success. California is known for being a powerhouse of economic growth, but continuing on that trajectory means businesses need to navigate the fiscal challenge of rising personnel, capital and compliance costs. If businesses have solid strategies in place to address these issues, they'll be much more likely to thrive in the coming years.
What industries in particular are seeing the largest growth in Los Angeles?
Mazza: The consumer industry continues to evolve rapidly alongside changing consumer preferences. Despite new headwinds, investor interest in consumer products remains strong. Consumer preferences and buying behaviors continue to evolve. Few sectors are affected more than the restaurant space, which also faces work force constraints and intense competition. As tastes and preferences continue to change, the industry will likely create a deeper divide between successful and unsuccessful restaurant operators. Those who respond in a timely, effective way will have more opportunity to thrive while others may struggle to survive.

For reprint and licensing requests for this article, CLICK HERE.