L.A. Hotbed for Health Care Transfer
Royalties stream into area hospitals, universities
Friday, June 22, 2018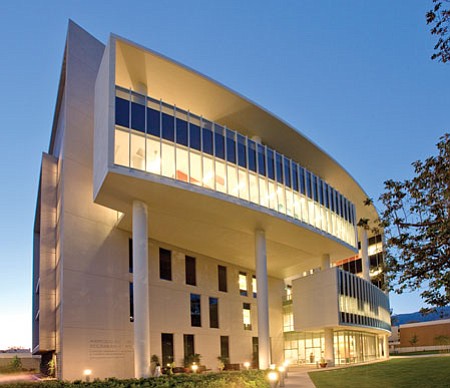 A breath test that can detect gut gases linked to gastrointestinal distress has the potential to be the latest blockbuster to come out of Cedars-Sinai Medical Center.
The test is the brainchild of Dr. Mark Pimentel, who offers a prime example of how health care institutions have made Los Angeles a leader when it comes to turning research and development into royalties.
Pimentel invented the antibiotic drug Xifaxan, which has raked in $47.5 million in royalties for the Beverly Grove hospital since it hit the market in 2015. Now his breath test is poised for the commercial pipeline, with him and Cedars-Sinai both hoping it will be a diagnostic hit.
"I just have an inventor streak," said Pimentel, a gastroenterologist and director of the Cedars-Sinai GI motility program, in an interview. "It's a winner for patients, first. Then for Cedars-Sinai. Then a small piece for researchers."
Pimentel has also hatched a new blood test for digestive diseases that is about to enter the U.S. market.
Los Angeles County hospitals, research centers and universities have ramped up efforts to turn such scientific discoveries into royalty revenue as a way to boost both their bottom lines and reputations.
The process, known as technology transfer, converts research innovations such as Pimentel's breath test into patents that can lead to licenses for commercial products – and sometimes produce hefty payouts by commercial drug, medical device and diagnostic companies.
Research powerhouses from Cedars-Sinai to UCLA also have cashed in on spin-off firms specifically licensed to sell their wares.
Scientific discoveries produced at such Los Angeles-area hubs of innovation led to about $446 million in royalties and fees countywide in 2016, the most recent data available.
The same institutions spent approximately $2.3 billion on research the same year, according to the Association of University Tech Managers.
But that's just a bunt toward third base compared to the grand slam in lifetime royalties paid for a single medical technology or drug.

City of Hope National Medical Center has pulled in an estimated $2 billion in royalties from one set of medical patents developed in the early 1980s.

Other biotech bonanzas include a $600 million deal for UCLA's royalty rights on a drug developed at the school, along with single discoveries at California Institute of Technology and LA BioMed that have brought in $100 million apiece.
"It appears that Los Angeles has the highest income generating from inventions in biotechnology," said Ahmed Enany, chief executive of the Southern California Biomedical Council, a Los Angeles trade group. "In the past 20 years, I have never seen $2 billion attached to an invention that delivered the amount of royalties to City of Hope."
Hotbeds
Southern California universities, hospitals and research centers, most scarcely a century old, have been hotbeds for biomedical innovation as well as national leaders to cash in on technology worthy of the commercial market.

The national leader on royalties paid out in 2016 was City of Hope in Duarte, which took in $341.6 million and spent $332.6 million on research.
City of Hope is no stranger to blockbusters. It received $200 million a decade ago from a legal settlement connected to its development of Humulin, a genetically engineered human insulin for diabetics.
But it was its artificial synthesis of antibodies that served as the basis more than 500 cell-based drugs around the world – including Avastin, Herceptin and Rituxan – that proved to be the real jackpot.
The technology, developed by Dr. Shmuel Cabilly and shared by Genentech Inc., became known as the Cabilly patents. It has brought in $2 billion in royalties since 1983, according to City of Hope.
The hospital now sees the end of the Cabilly cash cow – the last patent on the technology expires this December.
"We have gone up and up," said Chris Moulding, associate director at the office of technology licensing at City of Hope, now overseeing 80 new drug applications in the pipeline. "And this year, the patent will stop. Something like that will never happen again."
Following City of Hope on the list of royalty revenue for 2016 was UCLA, with $65.7 million; Cedars-Sinai at $30.5 million; Caltech at $19 million; and USC at $7.9 million.
Highlights from other major markets in the U.S. for 2016 included Northwestern University at $246.2 million; and New York University and Memorial Sloan Kettering Cancer Center, both at $161 million.
The University of California system of campuses combined for $156 million, while the University of Texas system took in $216 million.
There is a push from technology transfer offices across the nation to produce more revenue these days, with university and medical costs going up and federal research dollars at risk of going down, said Dina Lozofsky, executive director of Biocom L.A., another local trade group.
"One of the more recent trends is a shift to transfer managers who have a (bioscience) industry background," said Lozofsky, who spent 20 years as a tech transfer officer, including stints at UCLA and USC.
"And if you look at the startups coming out of UCLA, that is significant," she said.
Tune ups
Both UCLA and USC have completely revamped their offices in the past five years.
UCLA created a nonprofit board stacked with bioscience industry leaders to oversee its UCLA Technology Development Group.
Then it snagged Amir Naiberg from a top-ranked transfer company based in Israel.
A Milken Institute report last year rated UCLA 15th in the nation for tech transfer, up 30 places from its 45th position in 2006.
The royalty rights for Xtandi, a prostate cancer drug developed at UCLA, sold for $1.14 billion in 2016, and the school got a $600 million cut under terms of the deal.
UCLA created 27 startups the same year, and disclosed 412 inventions while adding 121 U.S. patents to its roster of 1,100 or so that are currently active.

Researchers were helped by $7.5 million internal fund set up to spur development – an effort that has helped launch 140 startup firms since 2012, according to the school.
"About five years ago, UCLA decided it would have a world-class office in tech transfer," said Naiberg, an associate vice chancellor and chief executive of the Technology Development Group "We've turned over every stone of this office to make it more efficient – and more inviting to our partners in industry.
"One of the biggest challenges has been to put UCLA on the map for biosciences – you don't have to go to Boston, to San Diego, or to the Bay Area. You can come here."
USC lured biotech expert Jennifer Dyer from San Diego in 2013 to run its tech transfer office, which has since gone from 12 licensing agreements with private companies to 55 last year.
A gene-based treatment for glioblastoma, now licensed to Tocagen Inc. of San Diego, is in a final clinical trial for federal approval.
"They brought me in to focus on commercialization and move the technology out of the university," said Dyer, who serves as chief executive of the USC Stevens Center for Innovation. "We've got a lot in the pipeline. We're really building a pipeline with deals."
Return on research
The payoff on research ranges, with City of Hope taking in about a dollar in royalties for every one it spends on research, thanks largely to its 1983 blockbuster.
Cedars-Sinai, a non-university, generates a 20 percent return in tech royalties.
Cedars-Sinai disclosed nearly 100 inventions in 2016, earning 24 patents, while managing more than 50 licenses that generate more than $30 million in a portfolio that includes drugs, medical devices, diagnostics and software. Its researchers were assisted by an in-house $1 million development fund.
Copyrighted CT software from two decades ago earns Cedars-Sinai roughly $8 million a year. Xifaxan, the antibiotic developed by Pimentel for irritable bowel syndrome and now licensed to Salix Pharmaceuticals Ltd., earns another $12 million to $15 million. A spin-off company is being set up to sell his blood test.
"We are looking at a moment in time where health care isn't for the meek," said Jim Laur, vice president for legal technology affairs, who has worked at Cedars-Sinai's Technology Transfer Office for nearly a quarter century. "It's a very challenging time to be a health care provider. There's intense pressure to reduce the cost."
For reprint and licensing requests for this article, CLICK HERE.