Molina Venture Buys Long Beach Post
Monday, June 18, 2018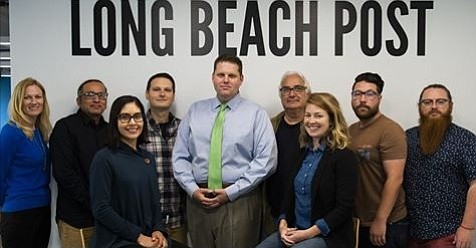 Pacific 6 Enterprises, a group headed by John Molina, has bought the Long Beach Post and added seven staff members to the online news publication, according to a June 18 announcement provided to the Business Journal.
Pacific 6's purchase price was not immediately disclosed in a move that represents a major shake-up of the media landscape in Long Beach, the second largest city in Los Angeles County.
Three of the new Post staff additions arrive from the Long Beach Press-Telegram, the oldest newspaper in Long Beach and subsidiary of Denver's Digital First Media and its roster of Southern California News Group publications.
The Long Beach Post is an 11-year-old publication dedicated to local news, and relies upon reader donations and advertising revenue.
The Post's new staff includes David Sommers replacing Cindy Allen as the new publisher. A former NBC news producer, Sommers said in an interview that the Post has moved from its 444 W. Ocean Blvd. location to a larger office at 211 E. Ocean Blvd., which will be conducive to community events.
Sommers also said that he planned to announce more hires in the next two months.

Molina is the scion of the fortune built from Long Beach-based Molina Health Care Inc., and he started Pacific 6 last year, shortly after he was fired as Chief Financial Officer at Molina Health Care.
The Long Beach Post's announcement stressed that there would be an editorial firewall, and no conflict of interest in the Post covering Molina and Pacific 6-related issues.
Sommers said that the publication's coverage would stress community issues including the port of Long Beach, affordable housing, and local public agencies. Sommers plans to stick with the strategy of reader donations and advertising, with no subscription model currently planned.
Media and entertainment reporter Matthew Blake can be reached at mblake@labusinessjournal.com or (323)556-8332.
For reprint and licensing requests for this article, CLICK HERE.