8 over 80: Norman Lear
Friday, June 15, 2018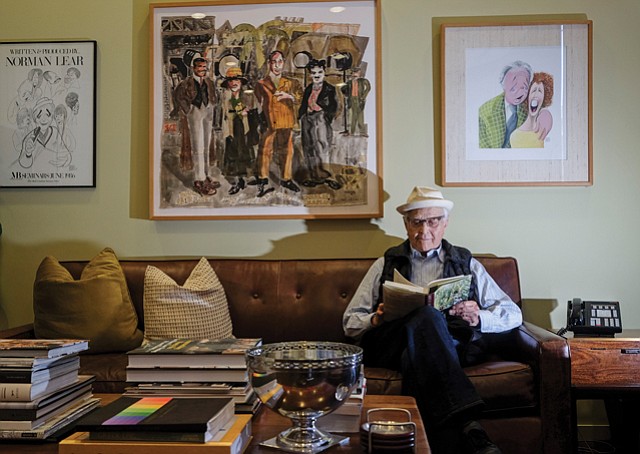 Norman Lear, 95
BUSINESS: Chairman, founder, Act III Communications, Beverly Hills; founder, People for the American Way, Wash., D.C.; the Business Enterprise Trust, Palo Alto; and the Norman Lear Center at the USC Annenberg School for Communication and Journalism, University Park.
Ask Norman Lear about favorite aspects of his famed and highly decorated career as television show writer, creator and producer and he is likely to respond with a familiar mantra:
"The facts of my life, whatever I was doing the day I was doing, I enjoyed the most," said Lear, 95. "Just living in the moment."
The only 90-something on the Business Journal's 8 over 80 list, Lear is embroiled in multiple projects, with no hints of taking a break anytime soon. Last week, his Beverly Hills company, Act III Communications, and Netflix Inc. started production on Lear's latest project, "One Day at a Time," now in its third season.
The show is a Latinx remake of Lear's 1970s hit sitcom which now features a Cuban-American family. There's also a five-part docuseries called "America Divided" for Epix. Lear is also one of the Business Journal's 500 Most Influential People in L.A. County.
When it comes to discussing what it's like working with millennials in his mid-90s, and whether co-workers seek him out for his experience and knowledge, Lear is equally noncommittal.
"If you're 12, I'm 12; if you're 51, I'm 51," Lear said. "I am the peer of the person I'm interacting with."
Lear was more committal on topics of things that were not so great. He regrets "enormously" that he didn't get right "The Nancy Walker Show," which he produced for the late actress. The show aired for one season on ABC from 1976 to 1977 before being cancelled.
"I let her down," he said.
He also talks somberly about his time in the military as a World War II pilot.
"If there was any part of my life that was different from my life now, it was the part of my life I played in World War II," Lear said. "I don't want to see that part again."
Television, and now streaming mediums such as Netflix and Hulu that present viewers with myriad shows, has vastly changed the entertainment industry over Lear's career. Viewers are provided with even more choices now, Lear said.
"If America has one product above all others it's excess in everything," he said. "You can go nuts with the choices. People say, 'You mean you're not watching – this show or that title?' When I have a moment, I look at it, and they're right. It's great."
For those still in the entertainment business, Lear advises they listen and observe. He also referenced his fondness for another mantra on life – "Every man is my superior in that I may learn from him," a quote from the late Scottish writer Thomas Carlyle, although there are other versions from other writers. The quote is said to have appeared in an episode of "All in the Family," another Lear creation.
As far as his work routine, Lear works a full day, every day, and has no plans to retire.
"I don't know what that means," he said. "If you continue to love what you do, and wish to do what you love, I don't think of it as work or retirement. It all comes naturally. It would be unnatural for me not to have something on my mind."
For reprint and licensing requests for this article, CLICK HERE.
Stories You May Also Be Interested In