Henkel Expands Culver City Hair Operation
New hair academy opens as part of German company's regional headquarters
Friday, June 15, 2018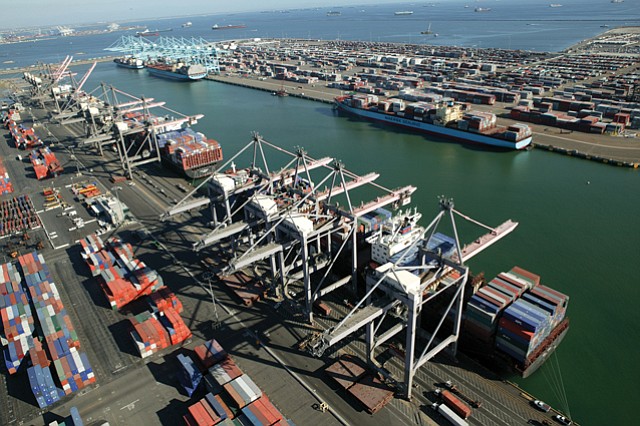 Six months after opening its beauty care and hair professional headquarters in Culver City, Düsseldorf, Germany-based Henkel Corp., announced the opening of its new Academy of Hair, located in the Culver City office, on June 14.

The regional headquarters on 5800 Bristol Parkway now counts 200 employees. The hair academy will serve as a training center and is open to stylists and haircare professionals, the company said. The academy has a full-service test salon and color bar, as well as a "digital trend lab" for photo and video shoots, live broadcasts of demonstrations and trainings.
The new training facility's purpose is to showcase the company's beauty and hair brands, Henkel spokesman Daniel Carpenter said. The company counts Alterna, Joico, Kenra Professional, Schwarzkopf Professional and Sexy Hair among the brands in its portfolio.
In January, Henkel closed the acquisition of Zotos International Inc., the North American hair products business of Tokyo, Japan's Shiseido Co. Ltd. Terms of the deal were undisclosed and the company received the Joico brand as par of the transaction.
Henkel purchased Sexy Hair, Kenra and Alterna in 2014 and acquired the Pravana brand in 2017. The businesses operated in their respective locations in Culver City, Calif., Chatsworth, Calif., Indianapolis, Ind., New York, N.Y., prior to all coming under one roof in Culver City in January. Warehouse operations remain in Chatsworth and Indianapolis, Carpenter said.
Henkel reported global sales of $22.6 billion in 2017 up 14.7% compared to 2016. The company counts more than 50,000 employees worldwide and has two other main business units: adhesive technologies and home care.
Port of L.A. Approves Budget
The Board of Harbor Commissioners for the Port of Los Angeles approved at a meeting on June 7 a $1.3 billion budget for the 2018-2019 fiscal year.
The budget emphasized continued infrastructure investment at the port, including the upkeep of marine terminals; the need to accommodate cargo volume growth and larger shipping vessels; as well as upgrades to information technology systems and initiatives to improve overall supply chain efficiency.
The Port also released its 2018-2022 strategic plan and identified the need for $550 million in capital expenditures over the next five years. The plan lists out four objectives — infrastructure development; a secure, efficient, and environmentally sustainable supply chain; improved financial performance of port assets; and building strong relationships with stakeholders.
The Port of L.A. is the largest the largest U.S. container port by trade volume. In 2017, the port moved a record 9.3 million cargo containers – an increase of 5.5 percent from the 2016, according to its website.
Nordstrom Adds Stores in L.A.
Seattle-based Nordstrom Inc. said it plans to open Nordstrom Rack stores within Plaza El Segundo in El Segundo and The Vineyards at Porter Ranch – a new shopping center scheduled to open in 2019.
Nordstrom Rack is the off-price division of Nordstrom, and offers discounts on apparel, accessories and shoes.
The Vineyards center will feature a 100-room hotel, 50,000-square-foot medical office buildings and a gated residence luxury apartment complex. Nordstrom Rack will occupy a 25,000-square-foot space there, the company said.
Plaza El Segundo's 23,640-square-foot store will open in third quarter of 2019, alongside Whole Foods Market Inc. and DryBar, among other retail outlets.
IHOP to IHOB
Glendale-based Dine Brands Global Inc.'s portfolio company International House of Pancake changed its name to International House of Burgers, or IHOB.
At least temporarily.
The company confirmed the name change on Twitter June 11, a week after it revealed its impending name-change plans and asked its customers to "guess" what the "B" stood for.
It turns out, however, the name change is only a marketing campaign.
"We are definitely going to be IHOP," Darren Rebelez, president of IHOP, told CNNMoney last Monday. "But we want to convey that we are taking our burgers as seriously as our pancakes."
The chain is adding several burgers to its menu and wants to be known as a place to get lunch and dinner and not just breakfast and brunch.
Dine Brands did not return calls requesting comment.
Staff reporter Shwanika Narayan can be reached at snarayan@labusinessjournal.com or (323) 556-8351.
For reprint and licensing requests for this article, CLICK HERE.