Game Gathering
E3 highlights video game industry growth
Friday, June 15, 2018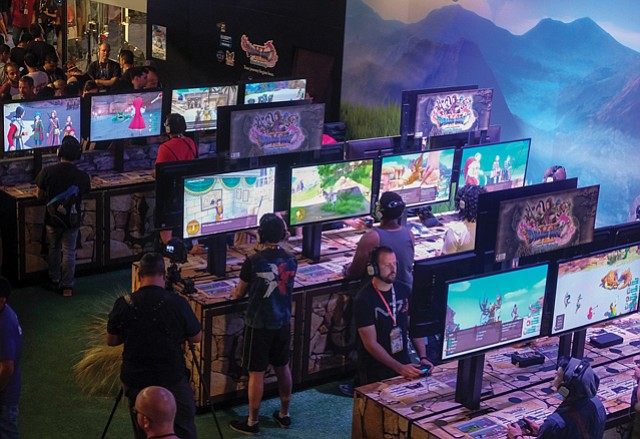 Tens of thousands of fans crowded into the Los Angeles Convention Center last week for the 23rd annual Electronic Entertainment Expo – better known as E3 – where gaming companies exhibited their most recent digital offerings.
The convention, which took place June 12-14, featured 200 exhibitors from around the world, including indie game developers, multinational corporations and individual content creators.
The showcase is a touchstone for the video game industry, and Los Angeles County Economic Development Corp.'s Center of Innovation Director Chris Rico said it could develop into a touchstone for the L.A. area as well.
"We want to build something like South by Southwest," Rico said, referring to the annual music and tech gathering in Austin, Texas.
"L.A. doesn't have that. It has E3 and the auto show, the only other things are centered around Hollywood, but after that we don't have a two-week festival… like in New York or Miami. In Austin, Texas, South by Southwest induces $365 million total economic activity per year, and they're a fraction of L.A. It's important that things like E3 come to L.A."
The Los Angeles Tourism and Convention Board said E3 2017 generated a record $75 million for the City of Los Angeles, up from $40 million in 2013. The three-day conference saw 68,000 visitors last year, up 41 percent from 2013's 48,000 attendance. E3 2018's economic impact isn't yet calculated, but more than 69,000 people attended, according to industry group Electronic Software Association.
2017's attendance figures were higher than expected due to 15,000 tickets sold to the public for the first time in event history, according to the tourism board. A total 28,000 overnight attendees generated 28,092 hotel room nights for Los Angeles during the show period and E3 2017 directly supported 27,891 total jobs, the board added.
"Year after year, E3 continually delivers significant economic lift to the local community as well as our hotels, restaurants and venues and we look forward to strengthening our valued partnership in the future," Darren Green, senior vice president of Los Angeles Tourism and Convention Board, said in a statement.
Tactical consideration
E3 serves as a crucial marketing and promotional vehicle for gaming companies, many of which are L.A. headquartered, including Santa Monica-based Activision Blizzard Inc., Square Enix Inc. of El Segundo and Warner Bros. Entertainment Inc. subsidiary Warner Bros. Games of Burbank.
While almost every major gaming company attends, there is somewhat of a divide in how these outfits roll out their featured games to the public. Many developers wait until E3 itself to launch products, shrouding them in secrecy until they finally hit the show floor. The idea is the anticipation provided by cryptic teasers, and the giddy excitement of the event itself, will boost game sales.
Prev Next
For reprint and licensing requests for this article, CLICK HERE.