Women's Council & Awards 2018: How Women can Break the Cycle of Abdication and Take Control of their Wealth
Custom Content by the Los Angeles Business Journal
Thursday, June 14, 2018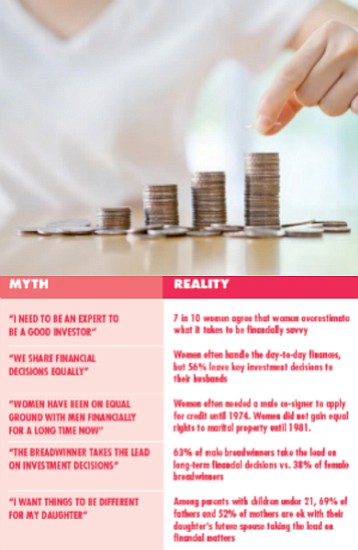 Two major trends are profoundly impacting women. One, women are living longer – longer than men. Two, nearly half of marriages are likely to end in divorce, with rising rates among couples over 50. Inevitably, many women will become widows or divorcees – and eight out of 10 women will be solely responsible for their financial well-being. Some women will be ready. Many won't.
UBS Wealth Management USA recently published a whitepaper report entitled "Own your worth," which revealed that 56% of married women leave investment and financial decisions to their husbands with 85% of them believing that their husbands know more about financial matters and investment topics. The majority of women (80%) are content with the current distribution of financial responsibilities in spite of the overwhelming research that 8 out of 10 women will end up alone, due to divorce or widowhood.
More than half of divorcees and widows discover financial surprises, such as outdated wills and debts, and previous UBS research shows that 85% of couples will need long-term care during their lifetimes, with most women outliving their husbands. This can lead to women's greatest fear of becoming a burden to their children.
IGNORING THE WARNINGS
59% of widows and divorcees regret not being involved in long-term financial planning while married and nearly all (97%) say they would encourage women to take steps to educate themselves about their finances now with 98% advising them to take an active role in their finances. They take their own advice, and 8 out of 10 women who remarry assume a more active role in financial decisions.
"The twin forces of longer life expectancies and high rates of divorce have produced a sobering likelihood, that more women will end up alone and solely responsible for their financial well-being," said Paula Polito, Global Client Strategy Officer of UBS Global Wealth Management. "What's most concerning is that women are more educated, successful and outspoken than ever, yet 60% continue to abdicate important financial decisions that affect their future."
WE'VE COME A LONG WAY…OR HAVE WE?
Despite living in an age of empowerment, the majority of women still waive their participation in long-term financial decisions. The consequences of abdicating responsibility for long-term financial decisions lead many women to struggle after divorce or the death of their spouses.
Family dynamics, societal norms and the belief that financial companies have not historically catered to women were identified as top factors. The report revealed that more than half of married women leave investment and long-term financial planning decisions to their husbands. Of these women, 8 in 10 like this arrangement, even though the long-term decisions their husbands are making typically have a more lasting impact on the family's wealth
MILLENNIALS
In a counterintuitive twist, millennials are the most willing to leave investing and financial planning decisions to their husbands, with 61% more likely to leave major financial decisions to their spouse, more than any previous generation. These numbers point to something deeper in our influences that dates back decades and is still being perpetuated today, according to the report.
MODERN FAMILY
The report also finds that couples follow the examples set by their parents, with 6 out of 10 women whose mothers did not play an active role in financial planning, reporting the same division of responsibility in their own marriage. Even today, the majority of mothers with children under 21 are OK with their daughters' future spouses taking the lead on financial matters.
COMPETENCE VS. CONFIDENCE
The UBS report acknowledges that together, history and society have conspired to affect women's financial confidence. With 85% of women who give financial planning control to their husbands, believing that their spouses know more about financial matters, and only 55% of women feeling confident about making long-term financial decisions as compared to 79% of men. The report says that women underestimate their own capabilities, while 69% agree that women overestimate what is required to be financially prepared.
MYTH VS. REALITY
The report dispels ten long-held myths surrounding women's relationships with money and explores why society should be motivated to change despite the many people who are happy with the status quo. See the top five myths Above: By exploring the underlying reasons for why women and men accept this inequality, UBS hopes to correct this balance. "Own your worth" outlines a three-step action-oriented process for women to break the cycle of abdication and take control of their wealth.
To obtain a copy of the report and learn more about UBS's commitment to focus on women's needs, please contact (213) 972-1554
For reprint and licensing requests for this article, CLICK HERE.