Women's Council & Awards 2018: Getting to Equal in Los Angeles: Driving Equality in the Workplace
Custom Content by the Los Angeles Business Journal
Thursday, June 14, 2018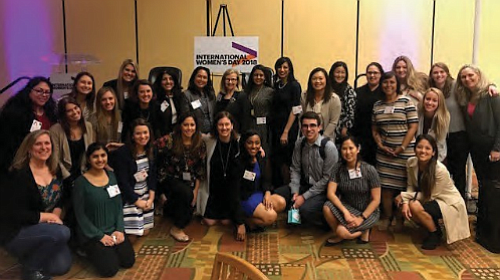 Equal pay and achieving a gender-balanced workforce has become a priority for government, civic and business organizations in Los Angeles. We are seeing this shift happen in Los Angeles – right here, right now.
The City of Los Angeles, for example, was one of the first cities to adopt the Convention on the Elimination of All Forms of Discrimination against Women (CEDAW). To put the ideas into action, Mayor Eric Garcetti's administration has created gender equity liaisons for each city department or office, and requires departments to put in place a strategy that fosters equal participation of women at all levels of leadership.
Furthermore, Amy Wakeland, the wife of Mayor Garcetti, spearheaded a movement to get more women serving as board commissioners for the city of Los Angeles. And this year, according to Wakeland, more women dominate the board of commissioners than ever before. Recently, "Women Rule" – a community of influential women devoted to expanding leadership opportunities for all women – hosted their first summit in Los Angeles. Women such as Tamara Mellon, Vera Santamaria and Senator Barbara Boxer engaged in "conversations around how to change paradigms and perceptions around gender – and why now is the moment to act."
At Accenture, gender equality is a core part of the company's mission and values, and it has set a goal to achieve a gender-balanced workforce, with 50 percent women and 50 percent men, globally, by 2025.
According to David Wolf, Accenture's Southern California Office Managing Director, "We're moving toward a gender-balanced workforce, and here in Southern California, that idea resonates with our employees, our clients, and the people who will join us. Having a workplace that is equal and diverse mirrors our region, and I'm excited about what it means for Accenture, locally as well as globally."

Accenture's Southern California office recently hosted its 2018 International Women's Day Celebration, gathering more than 100 local employees and client executives for a day of thoughtful discussion, insightful speakers, and peer-to-peer engagement. This year, across the globe, Accenture observed International Women's Day in nearly 50 countries.
During this event, Accenture unveiled its latest report: "Getting to Equal 2018 – When She Rises, We all Rise." Research indicates that company culture is key to unlocking gender equality and narrowing the pay gap. More specifically, it reveals what it takes to create a workplace culture in which women and men have equal opportunities for advancement and pay and where all people thrive – a culture of equality.
According to the report, in organizations that work to create and foster this culture:
• Approximately 95 percent of employees are satisfied with their career progression, love their job at least most of the time and aspire to be promoted and to be in a senior leadership position.
• Women are 35 percent more likely to advance to manager or above and four times as likely to advance to senior manager/director or above.
• Men are 23 percent more likely to advance to manager or above and more than twice as likely to advance to senior manager/ director or above.
BUT HOW DO WE GET THERE?
What can companies do, right now, to effect change within their organization? The report identifies 40 workplace factors that create a culture of equality. It identifies 14 of the 40 factors that are particularly strong and that can act as catalysts of positive cultural change, and grouped them into three actionable categories: bold leadership, comprehensive action and an empowering environment:
BOLD LEADERSHIP
A diverse leadership team that sets, shares and measures equality targets openly. Culture is set from the top, so if women are to rise, gender equality must be a strategic priority for the CEO and leadership team. Women are twice as likely to be on the fast track in organizations which have published a diversity target (19 percent compared to 10 percent).
COMPREHENSIVE ACTION
Policies and practices that are family-friendly, support both genders and are bias-free in attracting and retaining people. A host of workplace policies, practices and programs must be created—and supported—to drive advancement for all. Involvement in a women's network correlates with women's advancement, but the vast majority (81 percent) of the women surveyed for the report work for organizations without such a network. In companies that have a women's network, six in 10 women (62 percent) participate, with more than two-thirds (69 percent) of those women in a women's network that also includes men.
AN EMPOWERING ENVIRONMENT
An environment in which people feel trusted and have the freedom to be creative and to train and work flexibly. Enabling employees to be themselves shows a respect for individuals that fosters goodwill. Among the factors linked to advancement are not asking employees to conform to a dress or appearance code, and giving employees the responsibility and freedom to be innovative and creative.
Companies that embrace all three can effect real change and drive a positive culture where everyone can advance. That's the true power of equality: when she rises, we all rise.
This article was provided by Accenture. To learn more, visit: www.accenture.com/us-en/genderequality- research
For reprint and licensing requests for this article, CLICK HERE.