Women's Council & Awards 2018: Bank of America Los Angeles - A Century of Commitment to Women's Equality
Custom Content by the Los Angeles Business Journal
Thursday, June 14, 2018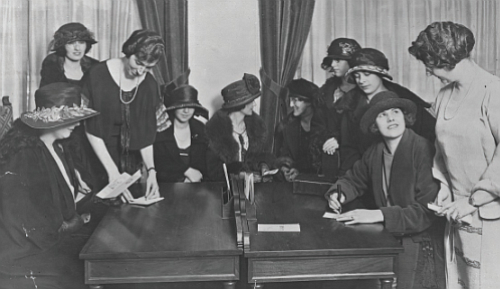 For nearly 100 years, Bank of America has been investing in the financial and career success of women customers and employees

As a major global financial company, Bank of America is proud to truly represent our clients and communities, with 50 percent of our workforce being female, as is more than 40 percent of our global management team, and 30 percent of our board of directors.
And here in Los Angeles, our women executives have been leading the way since the 1920s – not long after women first won the right to vote! Indeed, Bank of America was the first financial institution in the United States to open a division specifically dedicated to the financial needs of women, and in 1923, the Bank of America Women's Banking Division in Los Angeles opened its doors.
Since then, the bank has been investing in the financial and career success of women customers and employees, to empower them in making meaningful contributions both at work and in the community.
WALKING THE TALK
Today, nearly one hundred years later, as Bank of America Merrill Lynch's senior vice president for commercial business here in Los Angeles, I am proud of our commitment to women both in and outside of the company.
Particularly notable are the thoughtful and comprehensive benefits to help women manage the often conflicting demands of work and personal life, such as:
• Flexible work arrangements, tuition reimbursement, and 16 weeks of paid maternity, paternity, and adoptive leave for all our parents.
• Fertility and maternity support, including reimbursement for nursing mothers shipping breast milk while away on business travel.
What I am most proud of, however, is our focus on providing fair and equitable pay for all of our employees. In our most recent internal review of total compensation for all U.S. and UK employees, we found that compensation for women is 99 percent of that received by men.
LEADERSHIP IN ACTION
Our progressive workplace policies have supported women at all levels of our organization, including helping to cultivate an impressive roster of some of the financial industry's top bankers – male or female – based here in Los Angeles who run regional and national lines of business at Bank of America, ranging from commercial real estate to wealth management and construction finance.
In fact, collectively, about a dozen of these remarkable colleagues manage more than 5,800 employees along with multi-billion dollar books of business, portfolios, and revenue streams. But perhaps most impressive, they manage all this while serving on a variety of local nonprofit boards, volunteering in the community, serving as mentors for younger colleagues, and families of their own.
CAPITAL ACCESS
Another focus of Bank of America in driving responsible growth is investing in women owned businesses. While women play a vital role in driving economic growth within their communities, they often face challenges in accessing capital. That's why we have created partnerships to connect women entrepreneurs to the mentoring, training, and capital they need for success.
Here in Los Angeles, for example, we work with Valley Economic Development Corporation and the Tory Burch Foundation Capital Program to offer technical support and microloans to help grow their businesses across the Southland and now 16 states across the US. Similar partnerships include the Global Ambassadors Program with Vital Voices and the Cherie Blair Foundation, which connects women small business leaders in Asia, Africa, and the Middle East to the mentoring expertise they need, expertise that includes more than 400 Bank of America employees.
In addition, Bank of America's wealth management businesses, U.S. Trust and Merrill Lynch, are on the forefront of gender lens investing and issues unique white papers on women's entrepreneurial journeys. It's one of the ways we help clients, corporations and investors see that the movement towards gender equality not only creates benefits at every level of society, but creates a classic "win-win" for investors, as it grows their profits.
At Bank of America, we look at all this as the continuation of a long and proud tradition of supporting the dreams and goals of
women here in Los Angeles and around the world. We invite you to join us or tell us where we can help you in this great work. Every voice that joins us only makes our collective voice for creating full gender equality for women louder. Hear us roar! Claudia Bodan is the Greater Los Angeles Market Manager and Senior Vice President for Bank of America
For reprint and licensing requests for this article, CLICK HERE.