Is Health Care Pipeline Up to Task?
HEALTH CARE: Study says worker shortage on horizon
Friday, June 8, 2018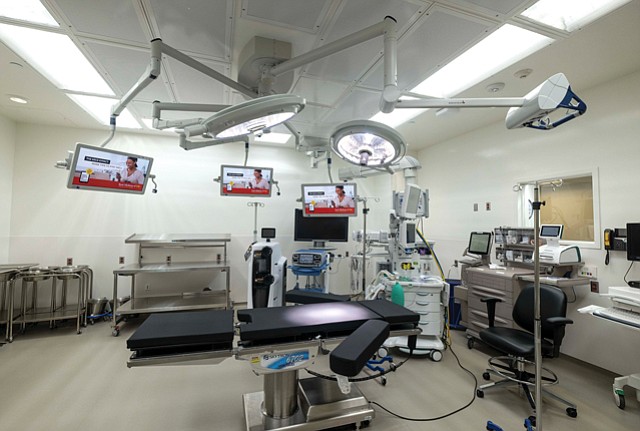 By DANA BARTHOLOMEW Staff Reporter
The increased demand for health care professionals as the U.S. population ages is no secret, but a new economic study of the local market puts in sharp relief just how much of a labor shortage there might be.
The study, released by the Los Angeles County Economic Development Corp.'s Center for a Competitive Workforce, estimates Los
Angeles and Orange counties' senior population will more than double to 31 percent by 2030 from 13.4 percent in 2016.
The boom in elderly residents will create an expected 126,000 job openings in the next three years alone, due the aging population's increased care needs and ongoing retirements in the current workforce. The total reflects 59,000 jobs expected to be left open by retirements and 67,000 new positions.
It's unclear whether the region has sufficient pipeline to meet the expected demand, according to Shannon Sedgwick, senior economist for the LAEDC and a co-author of the study.
"We're trying to identify if we have a sufficient talent pipeline to meet demand," she said.
The study, released last month, also said health care services in the region now make up 10 percent of the overall regional workforce – some 588,330 public and private payroll workers in 2016, an increase of 25 percent from a decade earlier.
Hundreds of outpatient clinics, hospitals and nursing and residential care facilities cranked out $140.9 billion in annual economic output, accounting for 9.5 percent of the gross regional product, the LAEDC report said.
Nearly 446,000 health care employees worked in Los Angeles County overall, and nearly 143,000 worked in Orange County. Health care sector employment grew in the past dozen years at an average pace of 2.5 percent a year, according to the study, while real wages grew by 4.5 percent over that time frame – ahead of the overall pace of the local economy.
The greatest job growth took place in outpatient care centers, which more than tripled to nearly 47,000 jobs, a growth rate of 252 percent,
The average health care services wage was $65,030 a year – higher than a regional worker average of $59,890 across all industries.
Training challenge
The volume of turnover –even with the relatively high pay rates – have combined with the changing nature of the work involved to present new challenges for the industry.
"It's a sea change for how we look at the talent pipeline for these (health care) businesses," said Lawren Markle, spokesman for the LAEDC. "There's so much change in technology, the skills they needed yesterday no longer apply today."
Outpatient clinics are forecast to have the most open positions – nearly 40,000 – followed by hospitals with 16,000 open positions.
Registered nurses are expected to be the single most in-demand position in the next three years, with 16,000 anticipated job opening. A shortfall is expected in specialty nurses who work in operating rooms, emergency rooms and neonatal intensive care units.
A related challenge is likely as community colleges in Southern California look for enough skilled health care instructors to train the next generation of health care workers. There could also be a shortage of hospital space to help satisfy clinical care requirements.
"We're busy at the colleges educating the next cohort of workers," said Shari Herzfeld, a deputy sector health navigator in Los Angeles for California Community Colleges. "We're doing our best to keep up. A lot of faculty are Baby Boomers who will soon retire, and will need replacing to keep our programs robust."
The health care services industry report was funded by the Strong Workforce Program, an initiative of the state community college's Chancellor's Office. It included an analysis of 15 middle-skill occupations for which community colleges offer degree and/or certificate programs.
One of the reports recommendations was to link health care providers with local colleges, so that the increasingly high-tech skills required by employers are added into new health care worker training courses.
Hospitals such as Cedars-Sinai Medical Center in Beverly Grove also have the potential health care worker shortage top of mind.
"One of the greatest challenges is a very severe, chronic shortage of health care professionals – nurses, pharmacists, laboratory technologists, imaging technologists, all of the people that are essential," Thomas Priselac, Cedars-Sinai's chief executive, said. "It's one of the issues facing America as the population ages. As a result of that, the demand for health care grows."
He said Cedars-Sinai expects to see significant growth in both its primary and specialty care centers as ambulatory clinics grow throughout the region and it expects to open five more clinics in the next several years.
"Health care is one of the five industries, if not the top three, in the Los Angeles market," Priselac said. "If you break Los Angeles down to its various regions, you should not be surprised to find that health care is the most significant employer."
For reprint and licensing requests for this article, CLICK HERE.