Who's Building L.A. (June 4): What We Talk About When We Talk About Creative Office
Custom Content by the Los Angeles Business Journal
Monday, June 4, 2018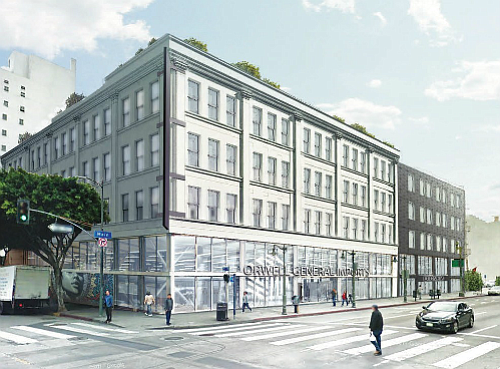 Creative Office is a funny term. The adaptation of this phrase has been continually expanded upon and often used without regard in the Real Estate world; from brokers to owners and tenants, the expression is common jargon for all types of spaces. What is Creative Office?
This type of space first took hold in Santa Monica and West LA as red brick, bow-truss warehouses fashioned for the creative cultures of entertainment production, architecture, and advertising that sought more than the standard offerings of traditional office. The aging industrial base from the mid-twentieth century was ripe for transition. Founding Partners of Lee & Associates Los Angeles West were among the first to pioneer this revitalization and have spent the last three decades restoring classic buildings and adapting the outdated commercial landscape. Much of the Westside's available mid-century buildings have been rehabilitated for this purpose. As the supply of classic buildings to restore and convert is dwindling, the Team at Lee & Associates Los Angeles West has shifted focus to 1970's and 1980's projects on the Westside and Culver City.
For decades, Culver City has been a production hub for modern, creative space. The access to Hollywood and Santa Monica make it a preferred location for creative use, which has lead to a recent boom in development as tenants like Amazon and Apple seize largescale opportunities. The upcoming project at 5950 Jefferson, led by the team at Lee & Associates Los Angeles West, is a result of this boom. Allowing its developers to move beyond the conventional conversion processes, the expansive 70,000 square foot multi-story spec building has modern creative elements.
"The spaces will include high ceilings, outdoor areas for tenant congregation and ample parking," Tibor Lody, SIOR and Principal at Lee & Associates Los Angeles West, said of the project.
Their Westside experience has pulled the Team into the renovation boom of the downtown Los Angeles market where properties built at the turn of the 20th century have great bones for conversion. The Team is currently working on a 250,000 square foot campus in the Historic Core comprised of the former Dearden's Project, a four story structure at 700 S Main Street, and the Norton Building, a five-story structure with penthouse addition just around the corner at 755 S Los Angeles Street.
"We're seeing an increased interest from many historically traditional users in projects like our Dearden's site that will offer the amenities and comforts of traditional spaces along with the retro character and creative feel Millenials want," said Keith Fielding, Principal at Lee & Associates Los Angeles West.
What attracts the creative user who is looking to evolve from traditional space is hive model workspaces that downtown adaptive reuse projects provide. This model combines the creative office campus with retail and restaurant space along with dining patio and landscaping amenities to create an intentional work/live atmosphere and provide an innovative community setting.
The team at Lee & Associates Los Angeles West is also working on the 500 S Santa Fe project in the Arts District slated for a July 1st completion. The building is a prime example of the drastic changes to the market place as Tenants migrate to previously untapped locations around the city. 500 S Santa Fe offers a unique blend of modern, creative elements with the benefits and efficiencies of ground-up construction. The four story, 100,000 square foot project offers mezzanine units and floor plates that provide between 14-26' clear heights, along with landscaped roof top patios facing the downtown skyline.
"This project was originally meant for industrial, but the owner saw the trends leaning towards office and adapted to the demands of the market," stated Aleks Trifunovic, President of Lee & Associates Los Angeles West.
In the past decade the market has experienced a sweeping transition from traditional office space to modern, creatively devised work environments. These new spaces are acutely attuned to architectural and lifestyle elements, fueled by younger generations' demand for curated environments.
"The term 'Creative Office' is completely overused and becoming obsolete—it is really just contemporary office," explained Trifunovic. "Design, entertainment and tech tenants have dictated the trend. What was once niche is now the standard."
To discuss leasing and investment opportunities from West LA to DTLA, contact Aleks Trifunovic at (310) 899-2721 or atrifunovic@leewestla.com
For reprint and licensing requests for this article, CLICK HERE.