Who's Building L.A. (June 4): Local Partners Help Bring Creative Workspace Concepts to Life
Custom Content by the Los Angeles Business Journal
Monday, June 4, 2018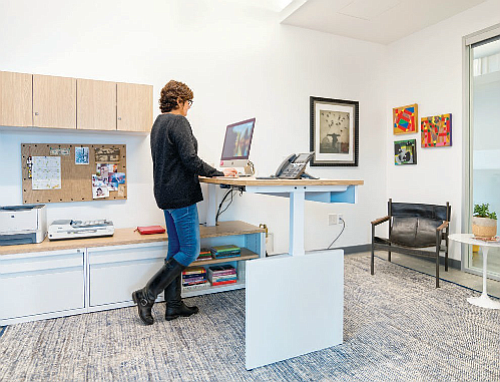 The Los Angeles region offers a wealth of resources for a company like Tangram Interiors to tap into for its highly creative commercial workspaces. The Tangram Studio division leverages this environment for worldclass local sources that can meet its exacting standards and innovative approach.
Tangram Studio has always focused on local procurement for everything from glass and metal to plastics and upholstery used in the custom solutions it creates for clients. Among the advantages of that approach are control, turnaround and long-term relationships.
PARTNERS MAKE THE DIFFERENCE
"We like co-creating and working closely through details and ideas with our vendors," noted Charlotte Wiederholt, Creative Director for Tangram Studio. "As industrial designers, we know a lot about design, but we don't always know everything about the manufacturing process."
One of Tangram Studio's key suppliers is Valentine Woodworks in Fullerton, a manufacturer of high-pressure and thermal fused laminates, rigid thermofoil and veneer components. The company has been a Tangram partner for more than 15 years. With roots in aerospace interiors, they understand how to design and produce cost effectively and on schedule.
"Working with Tangram Studio is awesome, because it's not the same thing over andover. Everything they do is reinventing the wheel," said Tony Lenzini, President of Valentine. "When we tackle a new design, we work together to figure out how to make it, what materials will work, and how to manufacture it economically."
FROM DESIGN TO FINISHED PRODUCT
A Tangram project typically starts by meeting with an architect or designer for input on the requirements, including budget. From that input, initial concept renderings are generated for review. At the same time, the Tangram design and engineering team refines the methods for production, including identification of best-in-class suppliers.
"A lot of people can draw anything to look great on a computer," said Wiederholt. "But the problem is that you can't actually make everything. We are sure that what we're showing our clients we can in fact build and build well enough to live up to our 10-year warranty."
According to Lenzini, "We go through the requirements without preconceived limitations and figure out what we can do well. But we'll also come back to value-engineer the assignment with Tangram. We save a lot of time by doing that."
Once the client signs off, the next step is detailed shop drawings in SolidWorks, CAD drawings and physical samples. The assemblies are broken down into individual parts, as many as 500 to 700 for some projects. From a set of drawings and electronic files, suppliers like Valentine can then begin programming their machinery for production.
Prev Next
For reprint and licensing requests for this article, CLICK HERE.