STREAM DREAMS
L.A. outfits eye ads, subscriptions for live music shows
Friday, June 1, 2018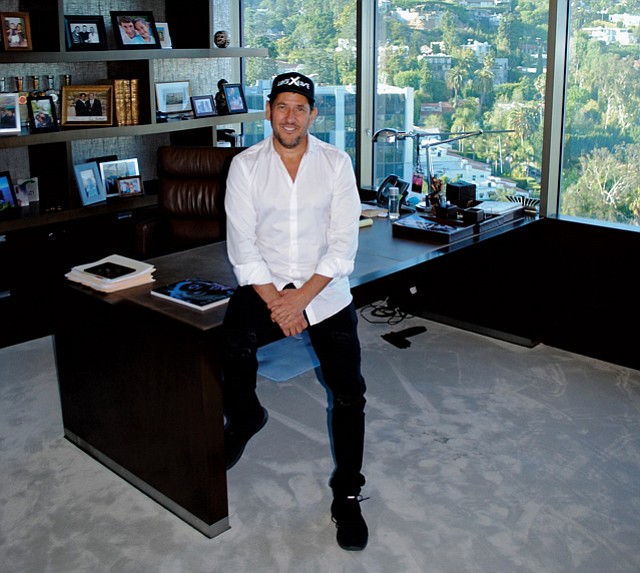 Robert Ellin lounges behind a clear desk top as he considers LiveXLive Media Inc.'s potential to be part of the music industry's future.
"Culturally, we have an opportunity to make a big impact," said Ellin, sitting in the West Hollywood office he occupies as chief executive of the company, which live streams rock music shows and festivals.
It's not clear, though, whether Ellin's company or competitors such as LiveList in Venice can find profits as pioneers in the unproven model of streaming live concerts.
There's potential for revenue from viewer subscriptions, or from ads or logos that appear during streaming. That has some observers envisioning a bonanza on par with the live streaming of video games, a segment where TwitchTV attracts millions of daily viewers, and is now part of Amazon.com Inc., which ponied up $1.1 billion for the operation in 2014.
LiveXLive aims to get 70 percent of its revenue through subscriptions and 30 percent from advertising.
It's been a challenge for the publicly traded company, previously known as Loton Corp., to work its way toward those benchmarks after years of specializing in venue management and ticket sales.
The company, which trades on the Nasdaq exchange, changed its name to LiveXLive last August. The new moniker came after it took in about $225,000 in revenue and lost $14.2 million for the year ended March 31, 2017, the most recent full fiscal year reported.
A few months later it completed a public offering in late 2017 of 5.5 million shares of stock, priced at $4 per share, garnering $22 million in gross proceeds.
It's shares remained at around the $4 mark last week, for a market capitalization of about $215 million.
Ellin said that the recent stock sale brought enough capital to see it through June 2019 without raising any additional funding.
Investors have gotten some cheer from a number of licensing deals LiveXLive did with premier festival producers, including a high-profile agreement signed last month with downtown-based music festival titan AEG Worldwide Inc.
Goliaths
Other titans lurk – including Alphabet Inc.'s YouTube. But YouTube's rock show streaming viewership is only a small and occasional piece of its overall business, and the cost of band width and recording equipment is in steady decline, which has opened the door for smaller shops.
"This is the last real greenfield of the music business," said Allen Sanford, chief executive of LiveList.
Growth could come on revenue from ads or logo placements in the stream, or a Netflix-like subscription service.
"Streaming in general has increased revenue in the music industry, and the streaming of live events has the potential to further increase revenue," said Alan Krueger, a Princeton University economist.
The layers of challenges remain, though, with music business profits defined by "who owns the right to the music, and how it is distributed," Krueger said.
Concert streamers need licensing approval from some combination of the artist, the artist's record label, the copyright holder of the sound recordings, the concert venue, and the organizer of a festival or show.
"It's complicated," Ellin of LiveXLive said. "We have a team of experts that are figuring out licensing."
Streaming festivals is a relatively more straight forward licensing process. The website offerings of LiveXLive, LiveList and Westlake Village-based Live Media Group Inc., which streams Milwaukee's Summerfest among other events, are largely comprised of festival footage.
LiveXLive announced earlier this month a partnership with AEG to stream Global Dance Festival this July and Decadence NYE on New Year's Eve, which both take place in Denver.
AEG greenlights streaming of festivals that are anticipated to sell out – thereby, preventing cannibalization of ticket sales. Each artist is then provided the opportunity to opt out from having their performance streamed.
Such partnerships, Ellin said, provide not only revenue for his company, but a licensing fee for the festival – and added exposure to the artist.
There's no evidence artists want to block streaming because it might dissuade fans from buying concert tickets, Ellin said. In fact, he claimed, the artist's increased visibility, "Drives ticket sales."
While Ellin's LiveXLive is focused on subscriptions and advertising, LiveList's Sanford is mostly banking on ads.
A LiveList user that tunes in to watch Del Mar's Kaboo festival, which features venerable Southern California rocks acts such as Jane's Addiction, is greeted with a large Coors Light logo. Viewers who click around the site can then see interviews with the performers in front of a ubiquitous Mercedes-Benz banner.
Sanford believes that this, "brand integration," model is the right one for a concert audience that is accustomed to corporate logos at festivals.
Downstream potential
Some are skeptical.
"The logos tend to be off-putting, but it depends where they are sticking it," said Gigi Louisa Johnson, a music business professor at UCLA who is studying live concert streaming.
Johnson speculated that the livestreaming outfits might tread water until virtual reality technology matures to more fully capture the concert going experience.
But the music professor said there is no solid evidence about consumers' preferences.
The Recording Industry Association of America has chronicled the music marketplace over the years, and reports a recent hike in revenue, with streaming of recorded music accounting for the reversal of a years-long downward trend.
But RIAA doesn't include live concert streams under its definition of recorded music, and neither RIAA nor another trade group has quantified the live concert stream economy.
The Music Industry Research Association was created by Princeton economist Krueger to fill gaps on music data, but Krueger's group has not measured live concert streaming.
High-profile investors such as Global Crossing Inc. founder Gary Winnick have made inroads into the industry only to later quietly bow out. Winnick took over a majority stake in concert streaming service Quello in March 2017, but sold the venture to a Canadian company in December.
LiveList's Sanford is braced for the market's possibility – and uncertainty.
"Nobody really has a grasp of this marketplace," he said.
For reprint and licensing requests for this article, CLICK HERE.