Ryan Olliges
20 in their 20s
Friday, June 1, 2018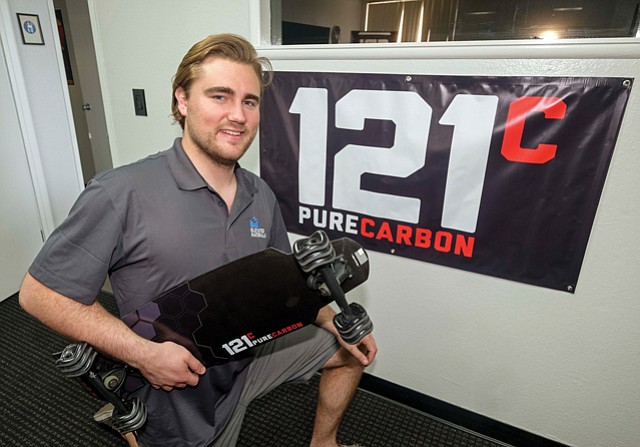 Ryan Olliges, 24
121C Inc. in Gardena sells skateboards made from upcycled carbon fiber, sourced from the waste of spacecraft production. Elevated Materials is a carbon fiber product manufacturing company making flat panels and contract parts. Space Division Inc. sells office furniture.
Employees: 17
Financials: Revenue: 2017: $322,253; 2016: $181,271; 2015: $46,200. Funds raised: $1.2 million.
What led you to start this business?
When I was a student studying aerospace engineering at USC, I was the lead composites engineer for the Rocket Propulsion Lab. It was my job to track down carbon fiber donations to use to build our vehicles. Boeing Co. reached out to us and let us know it had some material. I knew then there was a major opportunity to solve this major waste disposal problem for the aerospace industry.
How did you fund it, and how are you funding it going forward?
Pre-seed funding from family and a partner/advisor, Greg Autry. A Kickstarter campaign for our first product, the Aileron skateboard, raised over $44,000 – 440 percent of our goal; second Kickstarter raised over $102,000; seed round raised $1.2 million. We plan to launch a series A funding round in 2019 to raise $5 million.
Are there advantages/disadvantages to starting a business in your 20s, and if so, what are they?
At this age, I have no other major responsibilities leaving me the abundance of time I can spend working on the business. There are a couple of disadvantages with being in my 20s, especially in the business of establishing connections and contracts with major aerospace companies.
Do you have a mentor?
My dad, Paul Olliges, with years of experience in the composites manufacturing and design industry. And Greg Autry.
Where do you go for advice regarding your business?
The USC network and leveraging the connections.
Where do you go for professional services (legal help, accounting, etc.)?
We are always able to find reputable resources through our investors and connections at USC.
How much time/money do you spend on social media for your business?
About 20 percent of our monthly resources on social content and ads. Both brands rely on social media ads and organic content to drive sales.
Does social responsibility play a role in your business?
Our company mission is to capture as much carbon fiber waste before it makes its way into the landfill, saving an incredibly valuable resource and doing something good for the earth.
Do you feel that your business is particularly tailored to the Los Angeles market, or do you feel you could have launched it in another location?
Los Angeles is a great place for our business to start because of the vibrant aerospace community in the area.
Do you encounter skepticism from investors because of your age, and if so, how do you handle it?
Investors that I talk with can see the excitement and passion that I have for the business, and that eliminates most skeptics. When I do encounter any skepticism due to age, my team is there to back me up with their many years of experience.
What do you do for fun?
Skating, climbing, skiing or surfing.
For reprint and licensing requests for this article, CLICK HERE.