Laura Hertz
20 in their 20s
Friday, June 1, 2018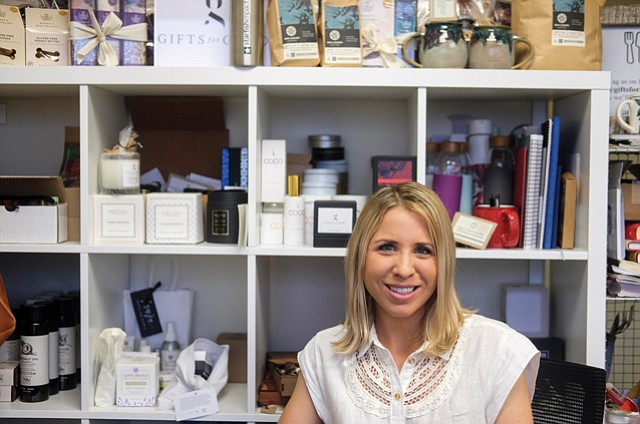 Laura Hertz, 28
Gifts for Good in Westwood (as of June 10) is a business gifting company that offers gifts for companies and individuals made by nonprofit or social enterprise partners to support their own missions.
Employees: 4
Financials: Projected revenue of $3 million in 2018.
What led you to start this business?
Gifts for Good was born out of a class project at the USC Marshall School of Business, where my co-founder Jerry Eisenberg and I met. We had both worked for companies that gave out low-quality promotional swag to employees and clients. We wanted to make it easier to give functional and socially responsible business gifts; we developed a curated central marketplace for products made by nonprofits and social enterprises to help them grow their impact.
How did you fund it, and how are you funding it going forward?
We have bootstrapped; we might consider raising capital in the future.
Are there advantages/disadvantages to starting a business in your 20s, and if so, what are they?
I have energy, adaptability and determination. But, it can at times be difficult to manage employees and close deals with professionals who have decades more work experience than me.
Do you have a mentor?
No. I have an executive coach.
Where do you go for advice regarding your business?
My husband, my (business) co-founder, co-workers, family and close friends.
Where do you go for professional services (legal help, accounting, etc.)?
We either hire through referrals from our network, or find freelancers through sites like Upwork and Upcounsel.
How much time/money do you spend on social media for your business?
My team and I spend a minimum of six hours a week doing our best to remain active on various social channels.
Does social responsibility play a role in your business?
Social responsibility is baked into our DNA. We're pioneering a new way for companies to incorporate social impact into their standard day-to-day operations, while helping charities and social causes better sustain themselves.
Do you feel that your business is particularly tailored to the Los Angeles market, or do you feel you could have launched it in another location?
We have found L.A. is the perfect place for an e-commerce startup with a focus on social impact.
Do you encounter skepticism from investors because of your age, and if so, how do you handle it?
I've met with a handful of investors who don't take me seriously because of my age and lack of industry knowledge. I tell them that some of the most disruptive founders in history have been people in their 20s with no industry knowledge – think Amazon, Airbnb, Uber, etc.
What do you do for fun?
Cycling, hiking, photography, camping and road trips with my husband, Ian, and my dog Ghost.
For reprint and licensing requests for this article, CLICK HERE.
Stories You May Also Be Interested In