Michael Milken
LA 500
Monday, July 30, 2018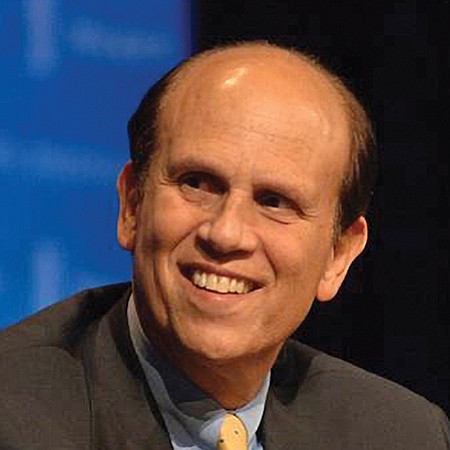 MICHAEL MILKEN
Chairman
Milken Institute
Michael Milken has for 45 years spearheaded initiatives in medical research, public policy, education, public health. He co-founded with his brother, Lowell, the Milken Family Foundation in 1982. He chairs the Milken Institute, which hosts 250 annual events worldwide including major conferences in Los Angeles, London, Singapore, New York and Washington, D.C., as well as this spring's 21st annual Global Conference. The institute works to widen access to capital, create jobs and improve health. The Milken Institute School of Public Health at George Washington University was named in recognition of an Institute gift. The investing legend, who served time in prison for securities fraud in the early 1990s, was an early advocate of high-yield bonds, then referred to as "junk bonds," which expanded access to capital for companies with relatively low credit ratings. Milken has an estimated net worth of $2.9 billion and is No. 27 on the Los Angeles Business Journal's list of Wealthiest Angelenos.
What was your proudest moment?

There are many. Looking back on our 50 years of marriage, Lori and I would surely mention the births of our three children and 10 grandchildren. I'm also very proud of my colleagues around the world who have continued to expand access to capital that creates millions of jobs, who have developed medical solutions including more than 20 approved drugs that are enhancing and extending lives, and of the hundreds of young investigators we've supported who have gone on to distinguished careers in medicine, science and public health.

What is your alma mater?

Birmingham High School in L.A; University of California, Berkeley; University of Pennsylvania Wharton School

What is your next project?

In the near term, we're seeking to accelerate the already rapid advances in genomics and immunotherapy that have helped extend lives for patients worldwide. Longer term, we're planning a major new facility that will highlight the contributions of educators, financial innovators, bioscientists and entrepreneurs toward achievement of the American Dream.

Who is your hero?

I could name hundreds of people who inspired me by the examples of their lives. Among those, a few of the ones I think of often include the Nobel laureate Gary Becker, who changed the world of economics and helped me define my thinking about human capital five decades ago; Dr. S. Ward "Trip" Casscells, an eminent physician who showed it takes courage to be a patient and who earned a presidential medal for his service as Assistant Secretary of Defense following a terminal cancer diagnosis; Andy Grove, whose decisiveness made him an especially valuable director of our medical foundations for more than a decade; my father, who taught me the importance of family and service to the community; and my mother, who continues to show that one person can make a difference and anything is possible with hard work and education.

What do you like best about Los Angeles?

The incredible diversity and creativity of the people who prove every day that the American Dream is as vibrant as ever.
For reprint and licensing requests for this article, CLICK HERE.
Stories You May Also Be Interested In