Brian Hegarty
LA 500
Monday, July 30, 2018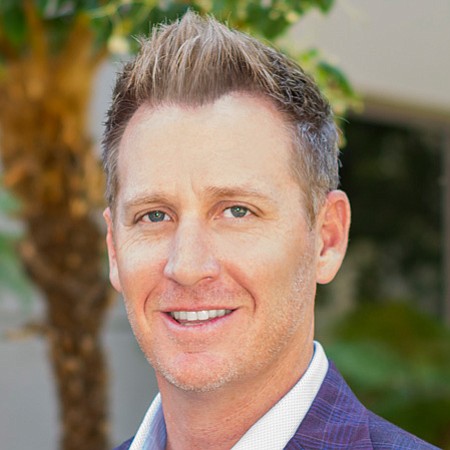 BRIAN HEGARTY
Principal, Managing Director Los Angeles
Marsh & McLennan Agency
Brian Hegarty, principal and managing director of Marsh & McLennan Agency's Los Angeles office, specializes in employee benefits programs for midsize to large companies. He has worked closely with companies in many leading L.A. industries such as finance, entertainment, hospitality and technology, including businesses expanding operations nationally and internationally. Hegarty helped develop MMA's Benefits Tech Trust program, a Department of Labor-qualified small-business trust designed for California's emerging technology organizations. Hegarty joined the company in 2008. He holds a bachelor's degree in communications with an emphasis in marketing from the University of Arizona.
What was your proudest moment?

My top three proudest moments bar none were the moment each of our kids was born. Taylor, age 7, was kind enough to let us try out parenting on her while we still didn't have a clue. Brody, age 3, is the fearless middle child, and Cash, age 16 months never lets a minute pass without cracking us up.

What is your alma mater?

I graduated from The University of Arizona with a bachelor's degree in marketing and communications

What is your next project?

Our projects are not so much projects as they are relationships with people. I'm grateful that I get to meet so many amazing people here in L.A. and learn about their next project. We are growing fast and are excited to be in our new office soon at 350 S. Grand Ave.

Who is your hero?

That's an easy one--my wife Ali--the one who gave birth to those three amazing kids. I know it's cliché, but she's my best friend--my sounding board, and definitely, the voice of reason. She provides the stability in our home, making it possible for me to do what I do every day. She understands that to be a great broker, you have to be available to your clients 24/7. Problems don't just come up for people between 9 to 5 and during those times when I can't be home I know she's got everything covered.

What do you like best about Los Angeles?

The best thing about L.A. is that you can toss a stone in any direction and find something amazing and different to do. It's truly an international city with this deep, rich culture. Whether we want to try a new restaurant, attend a concert at the Hollywood Bowl, paddleboard in the ocean, or hike in the foothills, there is never a shortage of experiences here.

For reprint and licensing requests for this article, CLICK HERE.