Betty Uribe
LA 500
Monday, July 30, 2018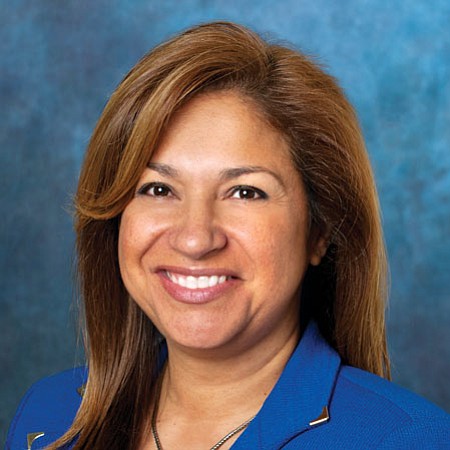 BETTY URIBE
Executive Vice President
California Bank & Trust
Betty Uribe is executive vice president at California Bank & Trust, where she has profit-and-loss responsibility for the Greater Southern California Division, a $4 billion line of business. Uribe specializes in organizational structure and turnarounds, with expertise in commercial banking, retail banking, marketing, public relations, risk management and strategic planning. The Colombian-born banker and entrepreneur published the book "#Values: The Secret to Top Level Performance in Business and Life" in 2017. She serves on three for-profit private company boards: Pepperdine University, University of Southern California and Next Step Asia, Hong Kong.
What was your proudest moment?

The day I called my mother to tell her she would never work again in her life as I had just received a large bonus from work; I was about 26 years old and the youngest branch manager at a financial services institution. Retiring my mother was a dream when we came to the U.S. from Colombia; I was 12 years old. My mother worked in a factory and I cleaned houses and baby sat to help make ends meet. I worked two jobs and took 18 to 21 units in college to get an education while being a single mother of a 2-year=old son at the time. I couldn't wait to pay back my mother for the sacrifice she made to bring me to this country for a better, peaceful future.

What is your alma mater?

Pepperdine University, Doctorate; Pepperdine University, MBA: Finance and Strategy; University of Virginia: Graduate School of Banking; San Diego University: BA, Psychology Major and Business Minor What is your next project? Taking the message of the importance of leading with values to business leaders, dignitaries, heads of state and leaders and influencers around the world, while funding 100 scholarships for underserved high-schoolers in each continent. Continuing to lead an organization that is truly based on values, and take it to the next level.

Who is your hero?

Mother Theresa is one of my heroes; she was able to effect change around the globe with grace and humility, while living a life of higher values and working through others. She did not do it alone. What do you like best about Los Angeles?

There is diversity of thought in L.A. I have met people from all over the world with diverse backgrounds, who are passionate for making a difference while seeking success for their business and families. People are real in L.A. I love the fact that people in Los Angeles are energized to make a difference, help and support one another, and the vibrancy of the business environment in L.A. is contagious! There is nothing that cannot be accomplished in L.A. There is a level of magnetic energy at every event, and the LABJ is a definite source of fuel for business leaders and entrepreneurs. I absolutely love L.A., "The Land of Opportunity!"
For reprint and licensing requests for this article, CLICK HERE.