Robotics Key to Device Startup
HEALTH CARE: Neural Analytics aims to quicken brain injury diagnosis
Friday, July 27, 2018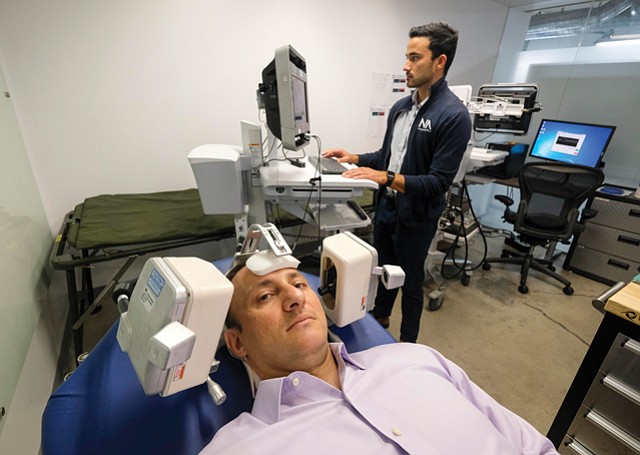 A couple of MBA students mocked Ph.D. candidate Robert Hamilton when he pitched a plan to develop a portable medical device to diagnose traumatic brain injuries.
Then one of the hecklers, Leo Petrossian, went home and asked his wife, a physician, if she would use something like the device Hamilton pitched as part of an inter-disciplinary exercise at UCLA's Anderson School of Management.
"Every neurologist in the country would use it," his wife, Melita, a practicing neurologist, told him.
That was six years ago, and Neural Analytics Inc. – the biomedical company formed in 2013 by Hamilton, Petrossian and Dan Hanchey, the other one-time heckler – is now poised to take the robotics- and artificial intelligence-assisted ultrasound device to market.
The West Los Angeles-based company received U.S. and European clearance in May for its Lucid Robotics System, which assesses patients for strokes and other brain disorders.
The firm has nearly 100 employees and has raised $46 million in funding, including a $15 million Series B round in January led by Alpha Edison, a tech-focused venture capital company based in West Hollywood. Neural Analytics also has landed $6 million in research grants, and got a $10 million contract from the U.S. Department of Defense last fall.
The company is in the process of raising a Series C round of between $30 million and $50 million to assist with international expansion, according to executives, who said they expect to have the financing in place this fall.
The company has not yet released the price point for its Lucid Robotics System, and accompanying NeuralBot headset, Hamilton said. The system will compete against traditional ultrasound systems that cost $50,000 or more and require the presence of a skilled technician.
"We're taking novel areas of machine learning and robotics, and combining them together," Hamilton, its chief science officer, said. "To be honest, we're not trying to replace people. We're trying to provide valuable information to health care professionals as fast as possible. NeuralBot can give us the ability to take this into places such as the battlefield, ambulances, the football field, people's houses. Anywhere."
Advanced tech
Brain disorders cost the U.S. nearly $800 billion a year, of which more than half is spent to treat strokes, concussions, migraines and dementia, according to a study published in March of 2017 in the Annals of Neurology. Americans suffer nearly 800,000 strokes a year, with timely intervention a major factor in survival rates.

For reprint and licensing requests for this article, CLICK HERE.
Prev Next