SnackNation: Big Data Meets Emerging Brands
Culver City "curator" puts healthy snacks on office menus
Friday, July 20, 2018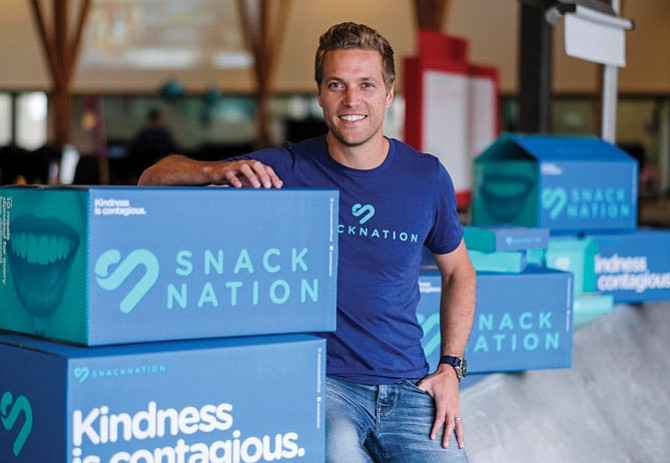 SnackNation is a healthy-snack delivery company co-founded by Andy Mackensen and Sean Kelly, chief executive of the company. The Culver City-based enterprise does not make any of its own products – it packages snack boxes with items that have been custom-ordered by brand and size for its clientele. Snack brands pay or provide items free of charge to be included in the boxes, which are peddled to companies that want to provide workers with a perk. SnackNation is responsible for the delivery of the "curated" packages to its customers, a roster that now includes some residential customers. The four-year-old company last month acquired San Mateo-based data analytics firm EdgiLife Media Inc. and its Love With Food, a SnackNation competitor, for an undisclosed. That came two months after SnackNation closed a $12 million Series B round. The company now has 150 employees, according to Kelly, who declined to offer specifics on sales or profits but sat with our Shwanika Narayan for a conversation about the company's growth, challenges and possible exit strategies. Edited excerpts of the discussion follow.
Question: What does SnackNation do?
Answer: We're a tech-enabled snack marketplace. What that means is we work primarily with emerging snack brands that make healthy products, and we curate, customize and deliver those snacks to our customers, mostly offices, though we're expanding into the home market.
What do you mean by tech-enabled?
We have a proprietary recommendation engine behind our snack curation.
Consumer's snacking preferences today are more varied than ever, even if people follow the same dietary guidelines, our snacking preference would still be different. We measure everything from customers who prefer sweet, savory, combo, crunchy, soft snacks to rotation preferences, payments preferences, etc. We have all these data and insights into our clientele and market.
Why snacks?
Because almost everyone snacks. The majority of snacking occurs during the day at the office, and that's what we consider to be an "engaged moment." We look to distribute and deliver the best in healthy snacks to consumers at their most engaged moment.
What about schools? Engaged moments happen there, too.
Probably not. I had a company before SnackNation that placed vending machines filled with healthy snacks in schools. I came out of that business saying that the school sector is something I want to focus on from a charitable perspective, not from a revenue and profiting-generating perspective.
And how do you determine what's healthy and what's not?
Prev Next
For reprint and licensing requests for this article, CLICK HERE.