L.A. Rising: Hollywood's New Script
Friday, July 20, 2018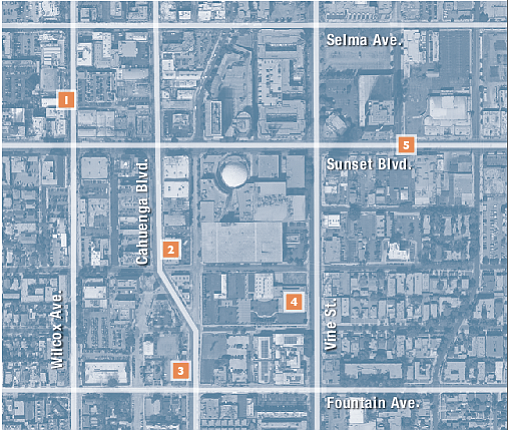 The latest phase of Hollywood's resurgence is linked to an influx of new content creators and an accompanying boom in hotel and office construction.
More than half a dozen hotels are being built in the area. The convergence of technology and entertainment led to a sharp decline in vacancy last quarter to 9.3 percent, according to data provided by Jones Lang LaSalle Inc. That continued a trend that persists amid a surge in office construction.
Access to nightlife, the 101 freeway and the Los Angeles County Metropolitan Transportation Authority's Red Line are some of the reason businesses say they've chosen Hollywood as a location that can help attract younger workers to them.
Netflix Inc., as one example, leased 323,000 square feet on Sunset Boulevard for its original content production business. Viacom Inc., the parent company of the MTV, Comedy Central, VH1 and BET television channels, opened its West Coast headquarters on Gower Street, the site of the original CBS Corp. studios.
WeWork Cos. Inc., meanwhile, operates two of its 16 Los Angeles County coworking spaces in Hollywood. Spaces also operates a coworking location on Vine Street.
The cranes have not come without controversy. Developer Crescent Heights Inc. recently won L.A. County Superior Court approval for Palladium Residences, a dual high rise to be built adjacent to the Hollywood Palladium. AIDS Healthcare Foundation, which so far has unsuccessfully tried to block the development, has vowed to appeal.
HOTELS, APARTMENTS, RESTAURANTS, OFFICE, RETAIL
The developments profiled here showcase Hollywood's renaissance as a destination for people to work, play and live. The Godfrey and Thompson hotels, once opened, will provide more than 400 rooms for visitors. Kilroy Realty Corp.'s Academy on Vine is being developed as a place where the entertainment industry workforce can work, live, eat and shop. Those projects represent portions of a total 813,000 square feet of office space under construction during the second quarter, according to data provided by Jones Lang LaSalle Inc. Net absorption was positive at more than 4,000 square feet during the April-to-June period, despite the new real estate.
– Ciaran McEvoy
1. THOMPSON HOTEL
LOCATION: 1523 Wilcox Ave.
DESCRIPTION: 11-story hotel with 190 guest rooms, rooftop pool deck, multiple dining venues.
DEVELOPER: Relevant Group
ARCHITECT: RCVA, Steinberg Hart, Tara Bernerd & Partners (interior design)
ESTIMATED COMPLETION: early 2020
2. GODFREY HOTEL
LOCATION: 1400 N. Cahuenga Blvd.
DESCRIPTION: Seven-story hotel with 220 guest rooms, restaurant space, rooftop amenity deck, central courtyard.
DEVELOPER: Oxford Capital Group
ARCHITECT: Steinberg Hart; Gettys Group (interior design)
ESTIMATED COMPLETION: spring 2019
3. RISE HOLLYWOOD
LOCATION: 1311 N. Cahuenga Blvd.
DESCRIPTION: Seven-story building with 369 residential units, including 12 live/work units and 20 moderate-income units, plus 2,600 square feet of ground-floor retail space.
DEVELOPERS: Rescore Property Corp., Cal-Coast Development
ARCHITECT: Nadel Architects Inc.
ESTIMATED COMPLETION: fall 2020
ESTIMATED COST: $96 million
4. ACADEMY ON VINE
LOCATION: 1341 Vine St.
DESCRIPTION: Three mid-rise commercial office structures totaling 545,000 square feet, a 16,500-square-foot studio and production building, 13,000 square feet of retail space and a 20-story, roughly 200-unit apartment tower.
DEVELOPER: Kilroy Realty Corp.
ARCHITECTs: Shimoda Design Group (design); House & Robertson Architects Inc. (executive)
ESTIMATED COMPLETION: spring 2020
ESTIMATED COST: $450 million
5. ESSEX HOLLYWOOD
LOCATION: 6240 Sunset Blvd.
DESCRIPTION: Mixed-used development with 200 apartments, 4,700 square feet of ground-floor retail, fitness center, sky deck, swimming pool and other amenities.
DEVELOPER: Essex Property Trust
ARCHITECT: TCA Architects
ESTIMATED COMPLETION: spring 2020
ESTIMATED COST: $105 million
For reprint and licensing requests for this article, CLICK HERE.
Stories You May Also Be Interested In