2018 Los Angeles Business Journal Economic Forecast & Trends
Custom Content by the Los Angeles Business Journal
Monday, January 29, 2018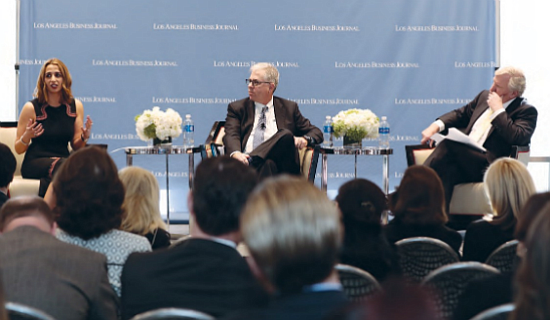 The Los Angeles Business Journal was excited to host the 2018 Economic Trends & Forecast event at the City Club LA on Tuesday, January 23rd.
The eventful morning featured a pair of lively panel discussions featuring leading experts on the hottest topics on the minds of LA area businesses leaders at the start of this year.
Attendees had the opportunity to learn from and engage with some of the region's leading business minds on topics including tax reform, real estate, financial investments and more.
Panel topics included:
TAX REFORM
Moderated by David Erard of HCVT, this panel made up of Dean Joaquin of RSM and Craig Morris of KPMG cut to heart of the new tax reform initiatives and how they are most likely to affect our businesses in Los Angeles. It's a topic that's on the minds of all business leaders, and the panel explored the potential economic impact of tax reform and how some industries stand to potentially benefit more than others. The experts also tackled some of the other big questions businesses are asking such as whether or not individual states will conform to the new tax rules and what the biggest issues are that companies should be concerned with.
REAL ESTATE
Moderated by Jim Kruse of CBRE, panelists Martin Griffiths of KPMG and Jessica Lall of Central City Association helped to define today's issues and the outlook for the immediate future. Issues were discussed with up-to-the-minute expertise, including the group's thoughts on topics ranging from the continuing growth boom downtown to legislative issues to the homeless problem Los Angeles currently faces.
FIRESIDE CHAT: FINANCE
Moderated by the Los Angeles Business Journal's Jerry Sullivan, this intimate and insightful conversation with Wells Fargo's Brent Williams, featured information on a number of helpful factors, such the evolving interest rate environment, the availability of credit and interest rate changes. He also discussed the competitive nature among banks, growth areas in lending and answered questions posed by the audience.
For reprint and licensing requests for this article, CLICK HERE.