Street Marts
Vendor program renders order from one-time chaos around subway station.
Friday, January 26, 2018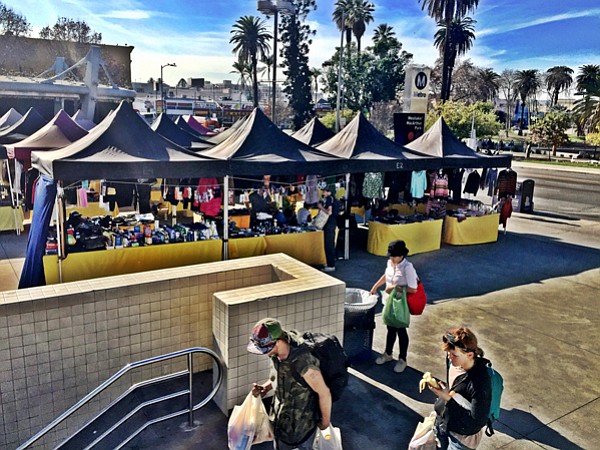 It's nearly a year since the Los Angeles County Metropolitan Transportation Authority set out to put some organization into the street vending scene around its subway station at MacArthur Park, the first stop of the Red Line as it heads out of downtown.
The effort took shape as scattered hawkers of everything from hot foods to household cleaners crowded onto the concrete surface of the open plaza featuring an escalator that goes into and leads out of the Westlake/MacArthur Park station just south of Wilshire Boulevard on Alvarado Street.

The station is an obvious hotspot for street vendors – it's among Metro's busiest, with close to 10,000 boarding Red Line or Purple Line trains on weekdays. The large passenger counts led street merchants to hawk their wares on the plaza outside the subway stop with no particular order to their ranks – a bootleg setup that often made it difficult for commuters to wend their way to the station's entrance.
Metro worked with various community groups, including the Union de Popular de Vendedores – or Street Vendors Union, which has taken on the duty of overseeing the market on a day-to-day basis – to launch the Westlake Metro Market in March of last year.
Initial goals called for licensing vendors and "minimizing blight and disorder at the station, eliminating unpermitted street vending, reducing crime, ensuring safe boarding and alighting of bus patrons, and transforming the station plaza into an inviting community environment," according to the agency.
Metro agreed to cover the costs of the booths and provide an initial $15,000 for private security to supplement Los Angeles Police Department and Los Angeles Sherriff's Department personnel. The extra security helps keep the marketplace orderly and keep gang members from extorting merchants for "street taxes," which are sometimes paid by street merchants in other parts of the neighborhood.
The traditional form of street vending remains a staple of the streetscape around MacArthur Park, to be sure, with sidewalks often overflowing with hawkers, their carts and lines of customers.
You can chalk up a win for Metro amid the maze of merchants, though. The agency's Westlake Market has more than 60 spots for merchants at 30 or so tents placed in an orderly layout on the plaza around the
Westlake/MacArthur Park station. Members of the street vendors' union pay $15 a week and are assigned space at booths on a rotating basis.
The Westlake Metro Market street merchants offer an array of goods – electronics accessories such as headphone or chargers, apparel and personal hygiene including soap, shampoo and toothpaste are popular – that combine to offer commuters a practical selection without interfering with commuters on the way to and from the station (see related Page 3 column item).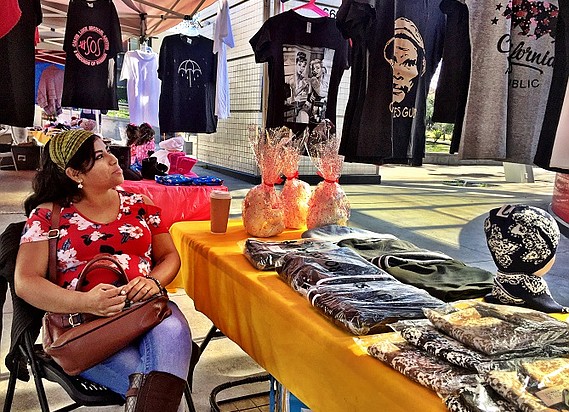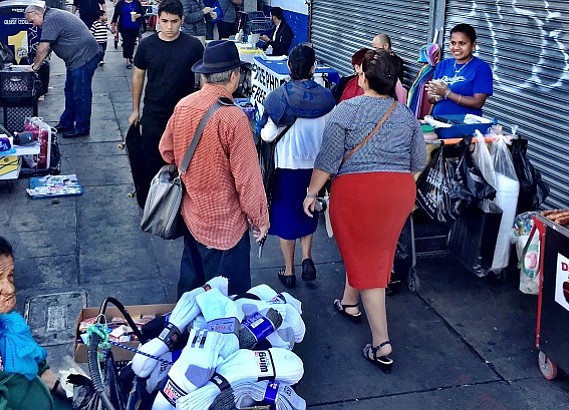 For reprint and licensing requests for this article, CLICK HERE.