LeBron Boosts High School Hoops Enterprise
Mars Reel gets nod of approval, $2.7M from "King," other investors
Friday, January 26, 2018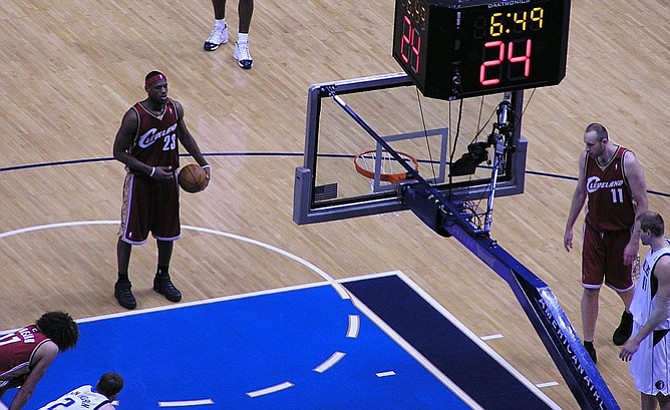 Mars Reel, an online high school basketball broadcaster, announced last week that it signed a video co-production contract with Lebron James' sports media website Uninterrupted.
The Hollywood-based company also announced that it raised $2.7 million from investors, including James, hip-hop musician Nasir "Nas" Bin Olu Dara Jones, Steve Stoute, Uninterrupted co-founder Maverick Carter, Bruce Tuchman and Robert Hisaoka.
Mars Reel, founded in 2010, delivers high school basketball programming formatted for millennials via short highlights on social media platforms, such as Instagram, Facebook, YouTube, Twitter and Snapchat. The company has more than 225,000 followers on Instagram and 377,000 followers on Facebook. Its properties average more than 25 million views per month.
Uninterrupted was founded in 2015 by James and his long-time business partner Carter to cover the behind-the-scenes world of professional sports.
Mars Reel raised $1.7 million in convertible notes from investors including Mountain View venture capital fund 500 Startups, prior to its recent funding round, according the firm. That funding was later converted into equity and rolled into its latest round. The company was co-founded by twin brothers Brandon Deyo, chief executive, and Bradley Deyo, chief operating officer. Mars Reel has spent the last 18 months working out of Uninterrupted's offices, Brandon said.
In the future, the company aims to expand beyond basketball.
"The grand vision has always been a sports network focused on high school sports," said Brandon Deyo.
The Old Turk
Retried CBS Evening News Anchor Dan Rather is getting back into the game.
The 86-year-old veteran reporter and anchor announced that he would host a weekly news program for the Young Turks Network, which produces a collection of left-leaning political talk shows that stream on YouTube. His 30-minute show is called "The News with Dan Rather" and will air Mondays at 5:30 p.m. EDT on YouTube. It premiered on Jan. 22.
Rather will broadcast the program from behind his desk in his office instead of within a studio, the company said in a press release. The show will focus on original reporting, stories Rather considers "underreported" by other news outlets and analysis of the news of the day.
Culver City-based Young Turks claims that it generates more than 200 million views a month across its various channels. The media company raised $20 million round last August in a round led by growth equity firm 3L Capital with participation from Greycroft Partners, E.ventures and Jeffrey Katzenberg's WndrCo.
Rather launched a political news and commentary media company last year called News and Guts, a response to the election of President Donald Trump. Its Facebook page has gathered 1.4 million followers.
Dead Cat Bounce?

Rubicon Project received a much-needed positive review from an analyst at Craig-Hallum Capital Group last week.
The good news comes after a dismal past 12 months during which the online advertising exchange's Chief Executive and co-founder Frank Addante resigned, the firm laid off 125 workers, and its stock value plummeted 75 percent – a string of event that followed several quarterly misses revenue projections.
Jason Kreyer, research analyst with Craig-Hallum Capital Group, said on Jan. 22 that the company could see an increase in its earnings before interest, taxes, depreciation and amortization and share price over the next year as the firm catches up with industry trends and keeps down costs.
"I think Rubicon has made the right moves in the last five months to position themselves for a fundamental turnaround," he said.
Changes by Rubicon to adopt a better advertising auction format, eliminate buyer fees and invest in new technology have begun to improve customer interest, Kreyer wrote in his research note.
In particular, the company's move to a more straightforward system creates incentives for buyers to submit higher bids, which could drive advertising prices up 50 percent or more, he wrote. Rubicon's former auction system sold advertisement space to the highest bidder, though the winner would pay only the second highest bid price in the auction.
Rubicon's stock rose 4.5 percent to $2.10 a share on Jan. 22, the day the positive research note was released.
Mobile Game for Muggles
Jam City in Culver City released a teaser trailer on Jan. 18 for a forthcoming mobile game based on the "Harry Potter" films. The game, "Harry Potter: Hogwarts Mystery," was developed in partnership with Warner Bros. Interactive Entertainment and allows players to create their own character and experience life as a Hogwarts student.
Jam City grew initially on the success of its mobile puzzle game "Cookie Jam," but in recent years has worked with various Hollywood television and film property owners to create branded games.
Staff Reporter Garrett Reim can be reached at greim@labusinessjournal.com or (323) 556-8332.
For reprint and licensing requests for this article, CLICK HERE.