New Heights for Drones?
Why telecom giant SoftBank joined forces with AeroVironment
Friday, January 19, 2018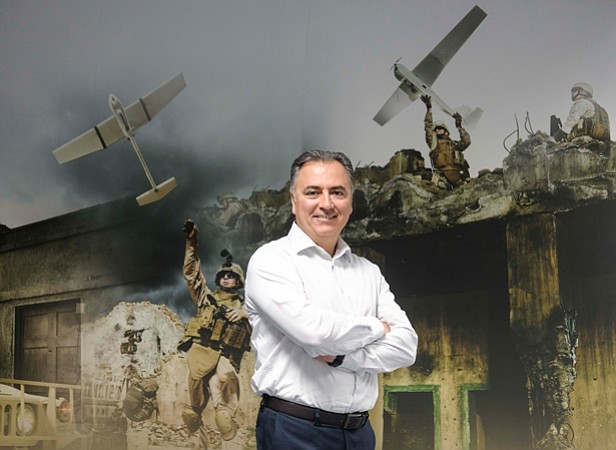 "From a unit-value perspective, it's very different from our current business," said Gitlin. "We believe deploying this technology has the capability to be transformational for our company."
Battlefield bandwidth
The joint venture, HAPSMobile Inc. – HAPs stands for high-altitude pseudo-satellites – is a Japan-based corporation that is 95 percent funded and owned by SoftBank Corp. and 5 percent funded and owned by AeroVironment. AeroVironment is committed to contribute $5 million in capital for its 5 percent, and has an option to increase its ownership stake up to 19 percent. The joint venture will fund the development of the AeroVironment-built drone up to a net maximum value of $65 million.
The exact design specifications of AeroVironment's drone have not been disclosed, but long endurance aircraft typically are carried upward by solar-powered propellers and the ability to soar on thermal columns of air. They are considered potentially cheaper than satellites in providing broadband connectivity to remote regions, developing countries, disaster areas, and – according to AeroVironment – the battlefield.
DoD, big data
The Department of Defense is looking for additional data communication capacities on the battlefront because soldiers increasingly use networked devices and programs, such as global positioning systems, drones and battlefield management software.
"You've gone from an environment where people traditionally use radios for voice communications to all these sensors in the battle field," said Ric Agardy, principal engineer in the military satellite communications division of Aerospace Corp. in El Segundo.
Body cameras that record or live-stream battlefield footage are particularly data-hungry devices, he added.
"That's something that didn't exist years ago, but now generates hundreds of thousands of megabits of data," he said.
Such technologies currently rely on line-of-site or satellite communications equipment to stay connected to the military's warfare network, but the Department of Defense is looking for alternatives and backups, said industry analysts.
"Increasingly there is concern that more capable adversaries like China or Russia will have the ability to deny access to those satellites," said Dan Gonzales, senior physical scientist with Rand Corp. in Washington, D.C. "They can actually shoot down these satellites as well as electronically jam them."
Long-endurance drones that fly at high altitudes and miles away from enemy fighters and anti-aircraft weapons could be an alternative in some situations, said industry analysts. Such unmanned aerial vehicles could also be potentially cheaper to build and fly than satellites, which cost millions of dollars to manufacturer and launch into orbit, and can't be upgraded once they are in outer space, said Wahid Nawabi, AeroVironment's chief executive officer.
"As soon as you launch it, the communication gear you designed into the satellite, it is already out of date … you can't upgrade once you're up there," he said. "Solar HAPS, you can bring it down anytime you want."
Moreover, rising global demand for broadband as well as advances in technology make long-endurance drones economically viable for the first time, said Nawabi.
"The cost curve on solar cells and batteries to enable the economics of this platform have (seen a dramatic) reduction in cost, which enables the business plan to be a lot more compelling," he said.
Possible opening
AeroVironment might have an opening to pitch its technology as the military reassess plans for its next generation of satellites, said Bill Ostrove, an aerospace and defense analyst with Forecast International Inc. in Newtown, Conn.
"I think the military remains dedicated to satellites," he said. "But, if they are going to move in and disrupt the market now is the time to do it, when they are in the initial first stages of deciding what future architecture will look like."
For reprint and licensing requests for this article, CLICK HERE.
Prev Next