Medical Simulation Confab Displays Hot Market
Friday, January 19, 2018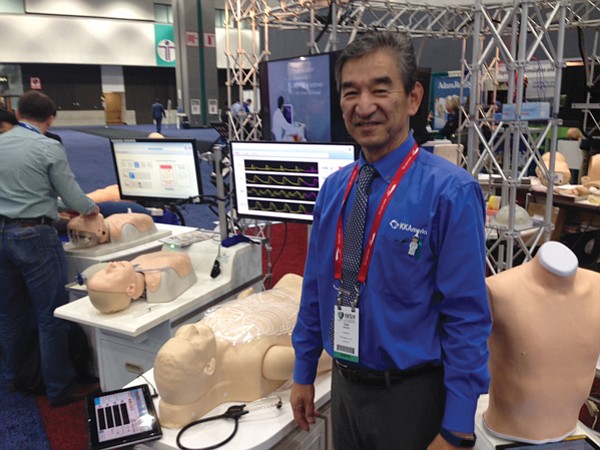 A study by MarketsandMarkets Inc. concluded the global market for medical simulation products would grow from $1.1 billion in 2016 to $2.6 billion in 2022, largely driven by an increasing demand for minimally invasive medical treatments and an increasing focus on patient safety.
Show and Tell
Kyoto Kagaku Co. Inc., a medical skills training firm based in Japan with a U.S. subsidiary based in Torrance, sells a wide range of rubbery body appendages, including a $2,000 lumbar puncture simulator with a life-like skin that resists a surgeon's spinal needle. The company's display table at the convention center featured rows of body parts with see-through windows into rib cages, mammary glands and other body parts.
Toshi Takayama, chief executive of Kyoto Kagaku America, said the L.A. show is an important marketing and sales platform for the company.
"The U.S. has numerous medical schools and simulation centers," he said. "It's a good market, with a lot of competition. In 2005, I remember only a dozen vendors (here), but there are now nearly 100."
SonoSim's Wienchowski also said the confab was an important business development opportunity for the eight-year old company, which was founded by Dr. Eric Savitsky, also founder of the UCLA Center for International Medicine.
"It's actually our most popular show, and the most important," said Wienckowski, who declined to reveal company revenues. "A huge market for us is simulation centers – and their reps are here."
Staff Reporter Dana Bartholomew can be reached at dbartholomew@labusinessjournal.com or (323) 556-8333.
Prev Next
For reprint and licensing requests for this article, CLICK HERE.