New Tune For Old Trade
Beverly Hills pawn shop more like hedge fund of hard knocks
Friday, January 12, 2018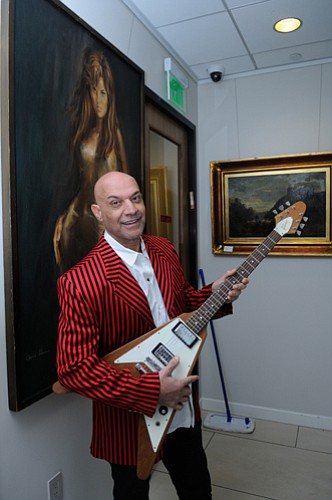 Yossi Dina settles in behind his desk on Beverly Drive with a freshly delivered cup of coffee steaming in front of him and two original paintings by Franz Kline on the wall behind him.
The pieces are dark and stark – and each worth somewhere between $2 million and $3 million.
That's the market at the moment – and Dina knows it for a simple reason.
"I'm not a connoisseur, I'm not an art collector," he said with the laser-like certainty that finds its way through the thick accent he retains nearly 40 years after leaving his native Israel for the U.S.
Then comes the payoff: "I'm a merchant."
Life as a merchant is often a matter of timing.
"I used to sell stuff, 20 years ago, for $20,000 or $30,000, by Andy Warhol," Dina said. "They go for over $100 million now. That's one piece for $100 million. And I sold hundreds of pieces."
If there are regrets about those sales, he hides it well.
"I buy and sell – I'm not a collector," Dina said flatly. "I'm a merchant."
Dina does his merchandising as a Beverly Hills pawn broker. His Dina Collection store on the 200 block of South Beverly Drive might not look like a pawn shop – you won't see the three balls on a shingle there – but it is just that.
And that puts the merchant amid a world-class concentration of connoisseurs, collectors and the just-plain acquisitive.
Rich and famous
Dina declined to disclose specific names, but he said some of his regular clientele include powerbrokers in the business community, as well as Hollywood celebrities and sports stars. One who doesn't hide his business: boxer Floyd Mayweather, who dropped $130,000 on one of the Birkin bags by Hermes that Dina sells at a boutique attached to his main shop.
His customers leave fascinating objects with him as security for quick loans. Steve McQueen's old bicycle, shoes worn by Stefani Joanne Angelina Germanotta – better known as Lady Gaga – at an MTV Music Video Awards show, and a check signed by Marilyn Monroe are displayed in the front of the shop. A recent peek into a vault in the basement revealed everything from lush ermine furs to a ring that featured a 20-carat diamond – the piece barely made its way onto Dina's beefy pinkie finger as he gave a visitor the quick look – and more recently sold for $800,000.
The loans made against such items can go well into six figures at the shop, and Dina will work his many contacts to put together bigger deals. The terms: timely repayment with interest gets the item back to the customer, who otherwise forfeits the merchandise, which is then Dina's to sell.
Long road
The road to Beverly Hills started in Israel, wound through France and New York, and led to the Fairfax District.
"I was in school, and I came to America to visit my brother," Dina said. "I was working in Paris for the Israeli government, and then for summer vacation I went to New York to visit my brother. It was 1979."
Fate stepped in at a diner.
"We were having breakfast, and I'm dating a girl who comes in and says to me, 'We're going to L.A. in a car and you have five minutes to decide if you want to come with.' It changed my life."
Not before a three-month adventure that started with a misadventure.
"The car broke down, and we sold it in – I forget which state," Dina said. "Then we started hitchhiking, and then we found a company that would hire people to drive cars from state to state. There was no rush – it was more like, 'See America.' It was beautiful."
The wandering ended in the Fairfax District, where Dina spent his first night in the parking lot of Canter's Deli. He spent some time handing out flyers, then got started on an apprenticeship of sorts.
"I started working for a lady selling jewelry door to door," Dina said. "$10 to $100 items – $200 would be a big, big piece."
He sold jewelry for more than 10 years before putting together enough cash to open a store at the corner of Wilshire and San Vincente boulevards with merchandise stacked up like a traditional pawn shop.
It went well – a "money machine," according to Dina.
The place also got robbed twice – including one near-miss for Dina and his employees – but he said that was life at a pawn shop that's obviously a pawn shop.
The robberies and a desire to challenge himself as a merchant eventually prompted Dina to move to Beverly Drive, where he's now on his second location on the same block.
Dina landed a reality TV show – "Beverly Hills Pawn" – that helped get the word out that his shop had unique pieces and there was room to bargain.
"I did the show because I moved over here and business was slow," he said. "The store intimidated people. They thought it was very expensive. Over there, people came for bargains because it looked like a pawn shop."
Industry expertise
He's grown to trust his instincts as he considers the possibilities that walk through the door every day.
"I had one of my manager's come to me the other day with a bracelet of diamonds – he took the bracelet, and he was breaking down how many diamonds and how much each diamond was worth, and he was going to add it up," Dina said. "I took a look at the whole piece and told him what it was worth – and we came up with the same price."
He also has learned that some areas require another level of verification – especially on the art pieces that come his way.
"I don't want to sound like I'm a professional," he said. "I can tell 90 percent whether it's fake or real, but to be 100 percent I have to ask experts in the art business."
A recent day found Dina fresh off a breakfast with some other experts for a discussion that had him checking his instincts in another area – commerical real estate.
"I was sitting with two real estate people – I put people together," he said. "One guy wanted $150 million and I put him together with an insurance company with that kind of money to [invest]."
Dina said he gets an even closer read on the residential real estate market with the deals that come into his shop. He's sensing a market that's at peak now, based on the types of loans he's making, and the reasons borrowers are seeking him out as part of real estate deals.
"I have a guy now – I'm doing a loan for $2 million right now on a house in Bel-Air because he's buying a building over here, an apartment building with six units," Dina said. "He needs a bridge loan for six months, and I'm organizing the deal. That's why I need to be very savvy about the market. I think we're about at the top. I don't think you can do real well right now buying a house. I do think you can still do well on apartments, because rents are still going up."
He might have started his life in L.A. in a parking lot on Fairfax, but he's gained some hard-earned wisdom since then – insights that make his Dina Collection something akin to a street-level hedge fund.
"Sometimes people can learn a lot and know nothing," he said, managing to somehow inject a cautionary note into his standard tone of certainty.
For reprint and licensing requests for this article, CLICK HERE.