New Tune For Old Trade
Beverly Hills pawn shop more like hedge fund of hard knocks
Friday, January 12, 2018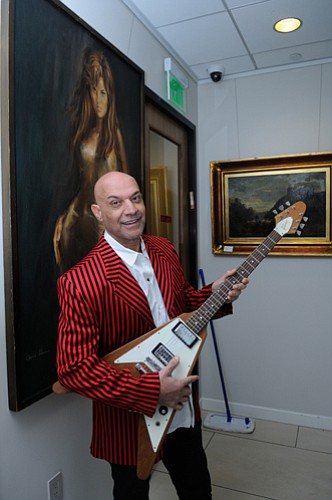 Yossi Dina settles in behind his desk on Beverly Drive with a freshly delivered cup of coffee steaming in front of him and two original paintings by Franz Kline on the wall behind him.
The pieces are dark and stark – and each worth somewhere between $2 million and $3 million.
That's the market at the moment – and Dina knows it for a simple reason.
"I'm not a connoisseur, I'm not an art collector," he said with the laser-like certainty that finds its way through the thick accent he retains nearly 40 years after leaving his native Israel for the U.S.
Then comes the payoff: "I'm a merchant."
Life as a merchant is often a matter of timing.
"I used to sell stuff, 20 years ago, for $20,000 or $30,000, by Andy Warhol," Dina said. "They go for over $100 million now. That's one piece for $100 million. And I sold hundreds of pieces."
If there are regrets about those sales, he hides it well.
"I buy and sell – I'm not a collector," Dina said flatly. "I'm a merchant."
Dina does his merchandising as a Beverly Hills pawn broker. His Dina Collection store on the 200 block of South Beverly Drive might not look like a pawn shop – you won't see the three balls on a shingle there – but it is just that.
And that puts the merchant amid a world-class concentration of connoisseurs, collectors and the just-plain acquisitive.
Rich and famous
Dina declined to disclose specific names, but he said some of his regular clientele include powerbrokers in the business community, as well as Hollywood celebrities and sports stars. One who doesn't hide his business: boxer Floyd Mayweather, who dropped $130,000 on one of the Birkin bags by Hermes that Dina sells at a boutique attached to his main shop.
His customers leave fascinating objects with him as security for quick loans. Steve McQueen's old bicycle, shoes worn by Stefani Joanne Angelina Germanotta – better known as Lady Gaga – at an MTV Music Video Awards show, and a check signed by Marilyn Monroe are displayed in the front of the shop. A recent peek into a vault in the basement revealed everything from lush ermine furs to a ring that featured a 20-carat diamond – the piece barely made its way onto Dina's beefy pinkie finger as he gave a visitor the quick look – and more recently sold for $800,000.
Prev Next
For reprint and licensing requests for this article, CLICK HERE.