FASHION AWARDS: SOCIAL RESPONSIBILITY AWARD
Custom Content by the Los Angeles Business Journal
Monday, January 8, 2018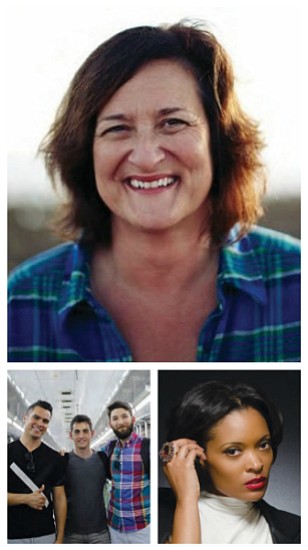 SOCIAL RESPONSIBILITY HONOREE
ROSE MARCARIO, PATAGONIA
Rose Marcario was CFO and COO of Patagonia from June of 2008 - March 2013 and became President of the company in March of 2013, a title she continues to hold. Marcario has been a huge contributor to the company's substantial sustainability efforts. Sustainable to the core, Patagonia makes apparel that lasts a long time, is made from sustainable sources, educates consumers to purchase only the apparel that they need, advocates to preserve public lands, and the list goes on and on.
Since 1985, Patagonia has pledged 1% of sales to the preservation and restoration of the natural environment. The company has awarded over $74 million in cash and in-kind donations to domestic and international grassroots environmental groups making a difference in local communities. It's a legacy that Marcario continues to lead, including the company's trailblazing work with the Sustainable Apparel Coalition for which Patagonia helped gather the top leaders in the apparel industry, non-governmental organizations, academia and the U.S. EPA to create an index of social and environmental performance. Today there are 49 members of the Sustainable Apparel Coalition, which represent nearly a third of all clothing and footwear sold on the planet.
This is just one example of Marcario and her team working alongside her competition for a greater good. She and Patagonia maintain a generous attitude toward competition. Marcario's stance is that If you have a product breakthrough that has less wear and tear on the environment, then it is that something you should be willing to share with your competitors.
In February of last year, Marcario and Patagonia founder Yvon Chouinard made a public statement about the company's commitment to public lands by choosing to withdraw the company's participation from the annual Outdoor Retailer show trade show in protest against Utah Governor Gary Herbert's attempts to rescind the Bears Ears National Monument.
FINALIST: CASH WARREN, DAVID EHRENBERG, ALAN STUART, Pair of Thieves
The three friends and entrepreneurs who started Pair of Thieves have proven to not only be great businessmen, but particularly generous as well. Alan Stuart is the artiste of the brand, Cash Warren, the ideas guy, and David Ehrenberg is the business end, leading sales, manufacturing and operations. When Stuart, Warren and Ehrenberg heard that socks were the most requested and least donated item at homeless shelters they decided to do something about it. Building a thriving business is gratifying, but helping a neighbor in need is so much more important. After spending the last few years building a growing basics business, the three put their heads together to plan one of the largest sock donations in history.
For reprint and licensing requests for this article, CLICK HERE.
Prev Next