FASHION AWARDS: PHILANTHROPIST OF THE YEAR AWARD
Custom Content by the Los Angeles Business Journal
Monday, January 8, 2018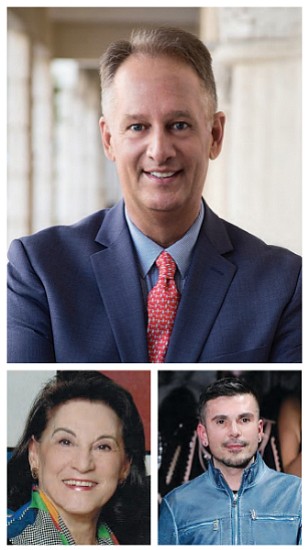 PHILANTHROPIST OF THE YEAR HONOREE
DOUGLAS EVANS, YMA Fashion Scholarship Fund
As the largest and oldest scholarship organization serving the needs of the fashion industry, the Fashion Scholarship Fund (FSF) (formerly YMA) seeks to identify and create career opportunities for young people worldwide.
Douglas Evans is the Chief Executive Officer of this international fund that provides scholarships, internships and mentoring to college students based on merit and winning selections from an annual competition. Evans is a member of the Advisory Board of the California Fashion Association and has contributed over $35,000 to the California Fashion Foundation's Scholarship programs and events.
Founded in 1937, the Fashion Scholarship Fund is the leading organization in the world discovering and promoting new talent for the fashion industry. Since its inception, the Fund has been working with and for the fashion community by seeking the best and brightest students from around the globe to propel the industry forward.
Annually presenting scholarships from $5,000 to $30,000, the Fund leads the industry in support and commitment to education. FSF scholarship, intern and mentoring programs bring young talent to the forefront and, after graduation, continues to work with its alumni to further careers of the young professionals, considered to be the future of fashion.
Evans and his team at the Fund regard their scholarship grants as a worthwhile investment in the future of the fashion industry and, since inception, have awarded millions of dollars in scholarships to thousands of students worldwide. Record donations of over $20 million have been received in the past ten years, including a $1 million gift from the Estate of Geoffrey Beene and over $5 million in donation from the Geoffrey Beene Foundation to underwrite scholarships and enable naming rights of the annual dinner.
In addition to the approximately two hundred $5,000 scholarships the Fund awards annually, it also awards four outstanding National Merit scholars with $30,000 scholarships to pursue their education and career goals, and another four scholars with $10,000 scholarships.
FINALIST: ILSE METCHEK, California Fashion Foundation
The California Fashion Foundation (CFF) supports the various philanthropies favored by the participants in the fashion industry of California. The organization directly holds two major events; the Scholarship Awards program for the 15 colleges and universities with fashion degrees to assist new entrants into the industry; and the Christmas party event for 200 children of the downtown charities such as Boys & Girls Clubs and Para Los Ninos.
Prev Next
For reprint and licensing requests for this article, CLICK HERE.
Stories You May Also Be Interested In