Franchisers Post 7.8% Increase in Banner Year
Restaurants lead way as franchisers expand base in growth year
Friday, January 5, 2018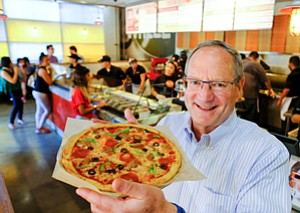 Restaurant operators solidified their position at the top of the Business Journal's 2018 List of Franchisers amid a good year for the industry overall, as the largest L.A.-based companies grew their combined franchisee pool 7.8 percent to 11,268 locations.
The International Franchising Association, a trade group representing all industries, said recently that franchising was on the rise in the United States, with 733,000 franchise establishments that supported almost 7.6 million direct jobs and more than $674 billion of economic output.
Movers near the top of the Business Journal's list included Fatburger owner Fat Brands Inc. of Beverly Hills, which rose to No. 8, and Pasadena-based make-your-own-pizza company Blaze Pizza, which ranked No. 10.
Restaurant franchisers account for six of the top 10 slots on the list.
Two of the fastest growers outside the restaurant segment were service providers with a focus on children. Mathnasium Learning Centers, which tutors children in math, stayed at No. 3 while adding 100 locations for a total of 900. My Gym Enterprises, which offers gym classes for children up to 13, rose one spot to No. 6 after adding about 100 new locations for a total of 535 franchises.
Home damage restoration company 911 Restoration Franchise Inc. didn't make it into the top 10 but was one of the biggest movers on the list, jumping to No. 14 from No. 23 last year.
Robert Kleinhenz, executive director of research at Beacon Economics, said he wasn't surprised that franchises had grown.
"Even after the recession was very much in the rearview mirror, people and businesses were treading very cautiously in how they were spending money and, in the case of businesses, where they were investing and expanding," said Kleinhenz. "It's only in the last few years that firms are recognizing that the consumer sector is very much healthier than it was."
DineEquity loses franchises
It wasn't all good news for restaurant franchisers.
Analysts said restaurant demand has increased in part due to millennials' preference to eat out, but consumers increasingly opt for individual brands or small chains.
Glendale-based DineEquity Inc., owner of the Applebee's Neighborhood Grill & Bar and IHop franchises, has been a victim of the trend. The company remained No. 1 on the list, but its total number of franchises decreased more than 9 percent to 3,719 locations last year from 4,090 in 2016.
The company announced in August during its second-quarter earnings call that it was revising expectations for the Applebee's concept and expected between 105 and 135 locations to close in 2017 after domestic same-restaurant sales declined 6.2 percent over the quarter.
Prev Next
For reprint and licensing requests for this article, CLICK HERE.