Women's Summit 2017 Nominees: A Gift for USC Marshall Women MBAs
Custom Content by the Los Angeles Business Journal
Wednesday, February 28, 2018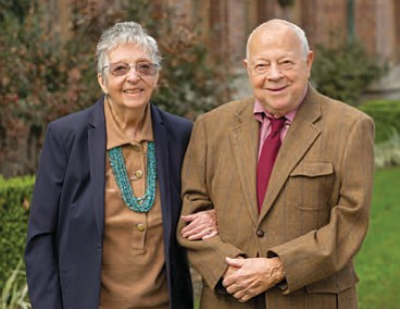 USC Marshall alumna endows scholarship fund for women MBAs 30 and over
A woman today might talk about the importance of having "a seat at the table" in terms of building her career. When Marilyn Beaudry Corbett was in business school, she considered herself fortunate they let her in the door.
"I was often the only woman in the room," said Beaudry-Corbett '53 MS '61. "But I persevered."
After a long and successful career in marketing and a second career as an archeology professor, Beaudry-Corbett decided to give back: She has made a $4 million gift to the USC Marshall School of Business to enable other women to pursue a graduate level business education. The gift will fund scholarships for women MBA students 30 and over.
"Marilyn Beaudry-Corbett's extremely generous donation is visionary and courageous," said James G. Ellis, dean of USC Marshall. "She understands first-hand the challenges women still face in advancing their business careers, and her investment helps level the playing field by offering them access to a critical educational opportunity."
WOMEN AND BUSINESS SCHOOLS
Beaudry Corbett's gift is well-timed. Studies show that full-time MBA programs still struggle to attract women, in part because of the age students typically pursue the degree—their late 20s or early 30s.
"Women at that age know they will have to sacrifice something, either their career standing or their families, in order to pursue a higher education in business," said Laju Obasaju MBA '17. "Knowing that there is financial support available definitely makes it a more viable option and will certainly help attract more women." Obasaju is an entertainment attorney who attended USC Marshall on a Consortium scholarship and is now starting a leadership rotation at AT&T in Dallas. "I could not have done it without that critical support," she said.
As all business schools work to recruit and retain more women students, USC Marshall has made robust strides, with the percentage of female students up over a five-year period across programs, including undergraduate and specialized master's degree programs.
"Creating an inclusive culture in all aspects of USC Marshall's MBA programs is of the highest importance to our mission," said Debra L. Langford, assistant dean for diversity and inclusion. "We are building upon several initiatives to increase the visibility of both our current MBA female students, as well as our alumni."
Emma Sugarman MBA '14, former president of the Marshall Graduate Student Association (MGSA), recalls the empowering climate at USC Marshall.
"Women were presidents for the majority of the clubs during my time at Marshall," she said. "So while you might have a class, where, like most business schools, women are underrepresented at only 30 percent, in our class, that 30 percent was strong. And that 30 percent had no fear and no misgivings about their ability to lead, based on gender or anything else.
"USC Marshall was worth the dedication it required," she said.
DOING IT HER WAY
Born and raised in Southern California, Beaudry- Corbett grew up with a keen interest in the workings of her father's candy-making business. She enrolled at USC's School of Business Administration, as Marshall was then known. From there she went to Radcliffe to attend the Harvard-Radcliffe School of Business Administration—at the time, Harvard did not admit women.
"We had the same professors and the same coursework," she said. "But they came to us. We weren't allowed to go onto the Harvard campus to take classes there."
Beaudry-Corbett later returned to USC for a master of science degree in industrial sociology, and entered the nascent field of marketing research, joining Audience Studies, Inc, a marketing and advertising research firm. The job took her all over the world, and she eventually rose to become the chief operating officer.
She prospered, investing in real estate, and buying herself a home high in the Hollywood Hills. But in the 70s, she decided to pivot and pursue her passion archeology. She went on to earn a Ph.D. in the field and launched a second career as a professor. After retiring from teaching and traveling the world with her husband, she began thinking about her next chapter.
"I knew I wanted the money I raised through my investments to do some good," she says. "I decided on philanthropy and supporting the things I've enjoyed in my life."
And she did enjoy business.
"Marilyn's gift is particularly significant given the events she lived through as a single, professional woman in an era when women weren't necessarily allowed to be either," said Anne Ziemniak, assistant dean and director of Marshall's fulltime MBA program. "Despite those challenges, she went on to become very successful, and with her gift, she is in essence paying it forward to the next generation of women business leaders."
Learn more about USC Marshall at marshall.usc.edu.
For reprint and licensing requests for this article, CLICK HERE.