Tri-Cities: Hot Office Market
Friday, February 23, 2018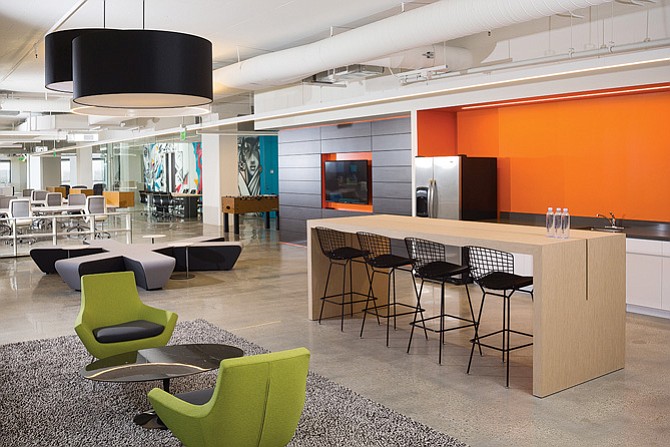 A spate of major deals has made the Tri-Cities market the hottest spot for real estate in Los Angeles County.
It's a trend that's pushed the Burbank-Glendale-Pasadena area past West L.A. and Hollywood in terms of recent deal flow.
The most recent example was the sale of a nearly 878,000-square-foot Glendale bundle – including two Class A buildings – 801 N. Brand Blvd. and 700 N. Central Ave.
Downtown-based CBRE Global Investors Ltd. bought the portfolio from New York hedge fund Blackstone Group for $122 million at the end of 2017.
Blackstone was on the buying end as recently as September, paying $1.7 billion for a portfolio of Burbank office buildings controlled by Santa Monica-based Worthe Real Estate Group. The deal included the Pinnacle I and II, a pair of buildings on West Olive Avenue with tenants Warner Bros. Entertainment Inc., Warner Music Group, Fox Twentieth Television, iHeartMedia Inc. and Morton's The Steak House.
Another jewel in the package was The Pointe at 2900 W. Alameda Ave. The nearly 500,000-square-foot building houses KCET-TV, Legendary Entertainment and DC Comics.
Blackstone also purchased 3500 W. Olive Ave., where major tenants include Worthe, Turner Entertainment and Shamrock Holdings Inc.
The Blackstone bundles were not the only recent Tri-Cities deals to raise eyebrows. Rockpoint Group bought the 315,410-square-foot Pasadena property at 177 E. Colorado Blvd. — where AT&T Inc. leases three floors for a combined 73,333 square feet — from Saunders Property Co. last September, for $161.5 million.
ACCO Engineered Systems acquired 888 E. Walnut St., a 235,000-square-foot Pasadena property from JP Morgan Chase & Co. in January, for a reported $112 million ($477 per square foot). The mechanical engineering firm will move from Glendale to occupy about 130,000 square feet of the 2005 building alongside OpenX, Citibank and CenFed Bank. This Pasadena address is no stranger to scorching deals: In 2007, JP Morgan had purchased 888 E. Walnut from developer IDS Real Estate Group for $127 million ($543 per square foot).

"Pasadena is based on tradition but emerging from technology," said Natalie Bazarevitsch, senior vice president of CBRE advisory and transaction services (see related story, page 1).
Boston-based Intercontinental Real Estate, meanwhile, bought the 180,200-square-foot Connexion Burbank at 303 N. Glenoaks Blvd. for about $125 million, while other notable transactions in the city included the multi-property portfolio at 700 Allen Ave. ($10.9 million), 2720 W. Magnolia Blvd. ($1.95 million) and 127 S. Glenoaks Blvd. ($1.5 million).
A sale of 1600 E. Colorado St. in Glendale fetched $2.85 million.
Entertainment as driver
Media and entertainment companies account for most of the newcomers to Burbank. The city enjoyed a strong market with vacancy rates in the low single digits prior to the Great Recession, but saw that spike to 20 percent by 2012.
They've since ratcheted down to around 11.5 percent, thanks in part to demand in the entertainment industry.
"When they're talking about Hollywood as the content capital of the world, they're really talking about Burbank," said Josh Gertler, chief executive of Burbank-based Consensus, a public relations firm.
Consensus moved its operations to the Tower at 3900 W. Alameda Ave. in Burbank a little more than a year ago, ending a 20-year residence in downtown Los Angeles. Construction of the building finished in 2015, and Consensus was one of its earliest tenants. Gertler's prime reason for taking his company to Burbank was for the city's media facilities and talent.
"The creative office environment was much further advanced (in Burbank) than it was elsewhere," Gertler said.
Many office brokers in the area now are waiting for the other shoe to drop on Walt Disney Co.'s acquisition of 21st Century Fox, according to Stacy Vierheilig-Fraser, senior managing director of sales and leasing at Charles Dunn Co. Inc. in Sherman Oaks.
"Does that bring more people from the Westside?" she asked. "Nobody knows yet."
Gertler said one detriment of relocating his 20-person agency from downtown L.A. was moving further from its events. However, better freeway access and an easier commute were all worth the trade-off, he said.
"Burbank is known to be exceptionally business friendly," Gertler said. "The rates per foot were pretty comparable (but) parking is less expensive, and the business tax is less expensive."
Entertainment and media tenants often want creative office space, which includes a large and centrally located kitchen, recreation space, open floorplans and outdoor meeting space.
CBRE's Bazarevitsch said that at two Glendale locations, 450 N. Brand and 625 N. Brand, "they are activating their exteriors, taking the office space from interiors and adding plaza seating, umbrellas, tarps and lunch destinations."
"There's been a culture shift," she explained. "It's about tenant attraction and retention. Your office space has to offer way more than before. It can't just be really comfortable chairs and a nice desk."
Glendale's transformation
The strength of the capital markets has helped transform Glendale, according to Bazarevitsch.
"A lot of national and local players have moved (into the submarket)," Bazarevitsch said. "The city of Glendale embraced it and didn't put a moratorium on the number of units. They were truly business-friendly people."
Newmark Knight Frank Executive Vice President Steve Kolsky recently told GlobeSt.com that the Tri-Cities market has become a solid lower cost option for entertainment and media companies looking or leasing in Hollywood.
"Burbank specifically has become Hollywood North," he said.
Bazarevitsch added that while "Pasadena has always been a strong market, Glendale has the greatest runway (for raising rents). It has become a market unto itself."
Big moves
Bill Boyd, senior managing director at the Glendale office of Charles Dunn Co., said the Disney-Fox deal's significance on Tri-Cities real estate may be overstated, since Disney still has a lot of room for growth on its Burbank lot. Boyd's more concerned about Nestlé USA's gradual relocation of its 750 employees to Arlington, Va. after nearly 30 years at Glendale's 800 N. Brand Blvd.
"It'll have a significant impact on the rental rates," Boyd said of the food giant vacating 350,000 square feet. The effect on leasing absorption will increase vacancy by at least 3 percent in Glendale, which has 6.5 million square feet in total office space.
The Business Journal reported a year ago that Children's Hospital Los Angeles, which already had two floors at 800 N. Brand, signed on to absorb another two floors of Nestlé's former office space.
Meanwhile, smaller tenants are flocking to Glendale. CBRE moved from Universal City to a renovated 1928-built, 59,500-square-foot building, which developer Caruso acquired for $6.6 million in 2015.
Bazarevitsch said "everyone is thrilled" about the move to the erstwhile Masonic Temple.
"At Universal City, it was more about geography than amenities and now we're about amenities over geography," she said.
Another business that migrated to Glendale is Lewis Roca Rothgerber Christie. The law firm moved in 2011 to 655 N. Central Ave., a 24-story office built in 1999.
"It was absolutely the right decision," said the firm's Chief Financial Officer Albert Woo. "There is no other building like this in Glendale. When we moved in, it was about 60 percent occupied. Today, it's fully occupied."
LRRC had been located within walking distance of Old Town Pasadena's lunch spots.
"That was something a lot of the attorneys missed (post-move)," Woo said.
A dearth of restaurants is no longer an issue for the law firm, as hip eateries such as Lemonade, Eggslut and Shake Shack have since planted flags in Glendale.
Many attribute Glendale's blossoming to "the Caruso effect" or "the halo effect from the Americana," as Woo described it, referring to a whole new wave of retail and residential investment. Myriad eateries, cafes and stores have sprouted on the outdoor mall's perimeters since Caruso's Americana at Brand opened in 2008.
"The growth has been nothing short of phenomenal," Woo said.
For reprint and licensing requests for this article, CLICK HERE.