Last-Mile Providers Take Different Routes
Bird Rides takes hit on regs in Santa Monica; Ofo develops local partnerships
Friday, February 23, 2018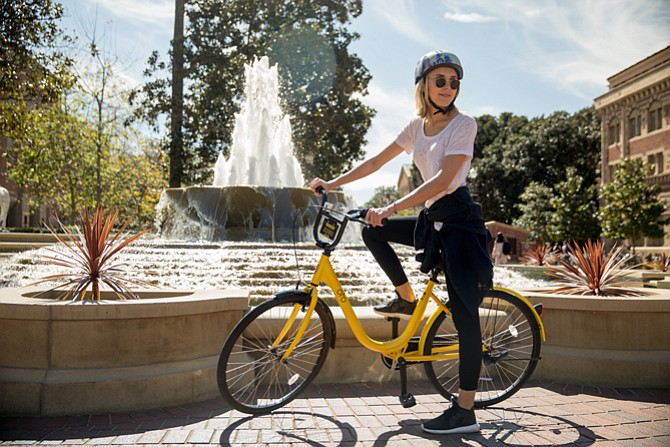 Getting commuters home from their closest Metro stop – the so-called last-mile – has been the bane of public transportation planners in Los Angeles County for decades.
But a growing number of tech startups think they have the solution.
Over the past six months electric scooter and bike sharing programs have sprouted across Los Angeles County.
Santa Monica-based startup Bird Rides Inc. started in September strewing sidewalks in Santa Monica and surrounding neighborhoods with standup electric scooters. And, Beijing-based Ofo stationed a few hundred bicycles in Bellflower in December. The tech firms are eyeing expansion throughout Los Angeles County this year.
Both companies rent vehicles to riders through mobile apps, which allows users to find and unlock the two-wheelers. When riders are finished with the vehicles they can be abandoned on the sidewalk. Rides cost $1 per ride and 15 cents per minute on Bird's electric scooters, and $1 per hour on Ofo's bicycles.
The main difference between these two startups – besides using electric versus leg power – is the approach each company's executives have taken to building relationships with local authorities.
Ofo looks for cities that lack last-mile transportation infrastructure, and then works with city governments to gain approval to operate within their boundaries and to park its vehicles on public property, such as sidewalks, said Ofo's Chandra Morando, the company's West Coast regional general manager. The startup, which has raised more than $1.3 billion, according to Crunchbase, has established partnerships with a couple dozen cities across the U.S., including Seattle, Denver and Boston, she said.
"It really allows us to place our bikes on the public right of away on the sidewalk, as long as they are legally parked and not on the pedestrian right of way," said Morando.
The company's bikes have been ridden in Bellflower thousands of times since being made available to the public in December, she said.
Bird, founded by former Uber Technologies Inc. Vice President of Driver Growth Travis VanderZanden, took a more cavalier approach. The company, until recently, was allegedly renting out its scooters to customers without permits or a proper business license, according to Santa Monica city officials. It drops off clusters of its scooters on public sidewalks early each morning and users leave scooters almost wherever they want whenever they want. The startup claimed that its vehicles logged more than 250,000 rides since it began renting in September, with more than half of those rides occurring in January.
For reprint and licensing requests for this article, CLICK HERE.
Prev Next