L.A. City Council Announces Homeless Housing Commitment
Wednesday, February 21, 2018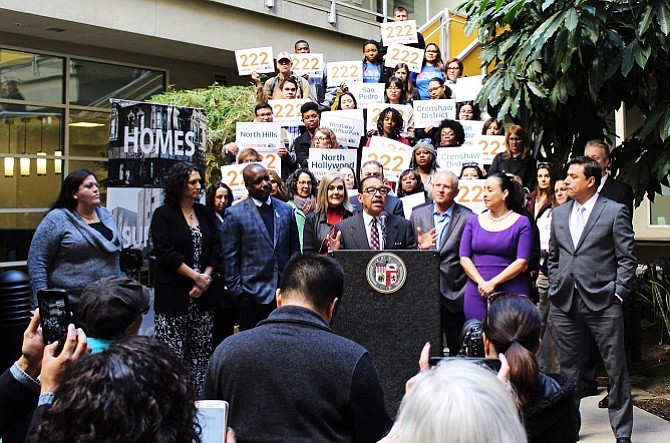 In a bid to tackle homelessness, the Los Angeles City Council announced on Feb. 21 that it had created a city-wide initiative to create a minimum of 3,300 supportive housing units.
Supportive housing is affordable housing with on-site services. The city initiative, dubbed the 222 Pledge, is a partnership with United Way Greater Los Angeles, a fundraising non-profit that addresses social issues including homelessness. All 15 city council districts are expected to partake and some councilmembers have pledged a minimum of 222 supportive housing units in their district. Units are expected to be approved by July 1, 2020.
"I applaud the City Council for taking on this challenge," said Mayor Eric Garcetti in a statement. "The homelessness and affordability crises touch every community in Los Angeles, and I look forward to working closely with my Council colleagues to bridge our housing gap."
The number of people living in the streets and shelters in the city of L.A. and most of the county grew 75 percent, to 55,000 from about 32,000, in the last six years, according to a recent report from the L.A. Times.
In November 2016, Angelenos approved $1.2 billion in bonds for Proposition HHH: the Los Angeles Homelessness Reduction and Prevention Housing Bond. Proposition HHH is intended to be used for the construction of homeless housing and service facilities.

Manufacturing and trade reporter Shwanika Narayan can be reached at snarayan@labusinessjournal.com or (323) 556-8351. Follow her on Twitter @shwanika.
For reprint and licensing requests for this article, CLICK HERE.