Sports Titans: Steve Ballmer
Billionaire's gritty instincts in line with 'challenger' brand
Friday, February 16, 2018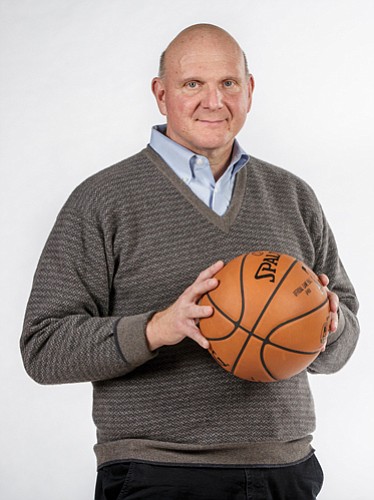 Steve Ballmer has a prep school diploma, a degree from Harvard University and a 14-year run as chief executive of Microsoft Corp. to his credit.
He's also got the gut instincts of a "Detroit guy," another title he claims with pride.
Consider Ballmer's ruminations about the "gritty, hard-core" base of fans of his Los Angeles Clippers basketball team, offered back in December.
"We have a lot of fans who hung in there with Clippers' teams that were not very good," Ballmer said. "I really appreciate that — and that's the hard core. I'm not saying we're the Bad Boys like the old Detroit Pistons. I think we're more of a challenger brand. With a challenger brand you've got to work harder, prove yourselves more."
The hard core of Clipper Nation edged toward the "Bad Boys" persona a few weeks after Ballmer's assessment – nothing flagrant, to cite a basketball standard of conduct, but they didn't hold back on booing former star-turned-rival Chris Paul with gusto on his Jan. 15 return to the Staples Center as a member of the Houston Rockets.
Paul eventually drew some cheers, thanks to a tribute video the Clippers showed on his behalf, but the initially rugged reception offered a vivid example of Ballmer's assessment.
And it wasn't the first time Ballmer's instinct about the Clippers have proved accurate. This is the guy who stepped up with a $2 billion bid when the team became available out of the blue in 2014 thanks to a very public disclosure of some ill-chosen words from then-team owner Donald Sterling.
He's continued to play it bold as owner – the Clippers' recent move to trade one-time face-of-the-franchise Blake Griffin is only the most recent example.
Ballmer is the guy, after all, who paid nearly twice the record price for a National Basketball Association franchise at the time – the New York Knicks fetched $1.1 billion 17 years earlier – and nearly four times the price of the Milwaukee Bucks, which sold at about the same time as the Clippers.
It didn't take long for a new record price to make Ballmer's bold bid look much better — the Rockets went for $2.2 billion less than two years after his deal for the Clippers.
It's true that Ballmer's $2 billion got him what had historically been a snake-bit franchise that remained stuck in the shadows of the Los Angeles Lakers even after 30 years in town and 15 years playing in the same arena as its intra-city rivals.
For reprint and licensing requests for this article, CLICK HERE.
Prev Next