Sports Titans: Steve Ballmer
Billionaire's gritty instincts in line with 'challenger' brand
Friday, February 16, 2018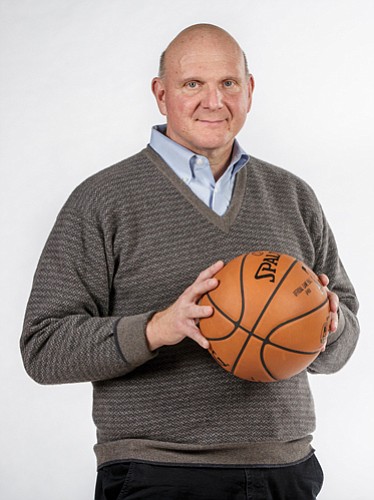 Steve Ballmer has a prep school diploma, a degree from Harvard University and a 14-year run as chief executive of Microsoft Corp. to his credit.
He's also got the gut instincts of a "Detroit guy," another title he claims with pride.
Consider Ballmer's ruminations about the "gritty, hard-core" base of fans of his Los Angeles Clippers basketball team, offered back in December.
"We have a lot of fans who hung in there with Clippers' teams that were not very good," Ballmer said. "I really appreciate that — and that's the hard core. I'm not saying we're the Bad Boys like the old Detroit Pistons. I think we're more of a challenger brand. With a challenger brand you've got to work harder, prove yourselves more."
The hard core of Clipper Nation edged toward the "Bad Boys" persona a few weeks after Ballmer's assessment – nothing flagrant, to cite a basketball standard of conduct, but they didn't hold back on booing former star-turned-rival Chris Paul with gusto on his Jan. 15 return to the Staples Center as a member of the Houston Rockets.
Paul eventually drew some cheers, thanks to a tribute video the Clippers showed on his behalf, but the initially rugged reception offered a vivid example of Ballmer's assessment.
And it wasn't the first time Ballmer's instinct about the Clippers have proved accurate. This is the guy who stepped up with a $2 billion bid when the team became available out of the blue in 2014 thanks to a very public disclosure of some ill-chosen words from then-team owner Donald Sterling.
He's continued to play it bold as owner – the Clippers' recent move to trade one-time face-of-the-franchise Blake Griffin is only the most recent example.
Ballmer is the guy, after all, who paid nearly twice the record price for a National Basketball Association franchise at the time – the New York Knicks fetched $1.1 billion 17 years earlier – and nearly four times the price of the Milwaukee Bucks, which sold at about the same time as the Clippers.
It didn't take long for a new record price to make Ballmer's bold bid look much better — the Rockets went for $2.2 billion less than two years after his deal for the Clippers.
It's true that Ballmer's $2 billion got him what had historically been a snake-bit franchise that remained stuck in the shadows of the Los Angeles Lakers even after 30 years in town and 15 years playing in the same arena as its intra-city rivals.
That brings up another move that Ballmer's considering – and he talks like a Detroit guy whose gut tells him that his L.A. team is going to need a house of its own.
"The Staples Center is a great place – we dress it up pretty nice [for Clippers' games]," he said. "But I think people see a little bit that it's the Lakers' home – and we play there, too."
That has Ballmer eyeing possibilities in Inglewood, not far from where fellow billionaire Stan Kroenke is building a $3 billion L.A. Sports and Entertainment District that will be anchored by a 70,000-seat stadium for his Los Angeles Rams.
"We're working on our own arena – which would be very much our own," Ballmer said. "It would be just basketball – not hockey and basketball. It would be a better fan experience, and the economics would be just as good. Look at Portland or Utah – those are arenas that are basketball-only, and they're much more intimate than arenas with hockey."
A move also would help the Clippers build its own brand by giving the team the full run of its own house.
"Staples is a great place, but we play on the undesirable nights and we have a tougher schedule because the way the contract was written," he said. "Who wants to play on Monday night against Monday Night Football all the time."
Then there are the obvious revenue opportunities.
"We don't sell suites or naming rights at Staples," he said. "That's something we would do at a new stadium."
Ballmer's prior experience – and it's notable that he shared an office with Jeffrey Immelt as a young manager at Procter & Gamble Co. before he joined his old Harvard dorm mate Bill Gates as the 30th employee of Microsoft – has him keen on keeping the consumer experience offered by the Clippers up to the fast-moving standards of today's tech-driven fandom.
"We need to transform the experience for viewers at home," Ballmer said. "What is it worth to have a season ticket [via cable TV telecasts] at home? If you're a hard-core fan, how can we enhance the experience for you? Right now we're working on that with a company in Little Tokyo called Second Spectrum – full disclosure, I'm an investor."
Ballmer's unabashed personal enthusiasm and financial commitment has helped make the Clippers more competitive than the team has ever been.
That's whetted the appetites of fans and presented Ballmer with the challenge of building a future for the Clippers brand.
"I think you have to be committed to winning - which means something," he said. "You have to take both a short-term and long-term approach. You have to invest with seriousness about whether you go hard on the draft or hard on free agency – or both. You have to be serious about the way you build the team that will build the team. There's a reason why we separated the front-office role from the coaching role [earlier this year]. There's a reason why we brought Jerry West in as a consultant. You're going to step forward sometimes, and sometimes you'll step back, but you always have to get back on the right path."
Will that path lead Ballmer and his ball team to Inglewood?
Only time and a Detroit guy's gut instincts will tell.
For reprint and licensing requests for this article, CLICK HERE.