Leaders in Law Finalists - Attorney Awards: ENVIRONMENTAL ATTORNEYS
Custom Content by the Los Angeles Business Journal
Wednesday, February 14, 2018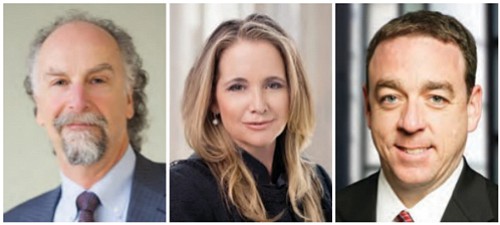 ENVIRONMENTAL ATTORNEYS
JAMES J. DRAGNA: Morgan, Lewis & Bockius LLP - Partner
James J. Dragna represents energy, aerospace, and manufacturing clients in environmental matters nationwide. He regularly counsels clients in post crisis management, and has served as coordinating counsel in several multi-party, multi-claim post crisis proceedings. Dragna has also served as special counsel to several large municipalities in major water and wastewater infrastructure litigation. In the hazardous waste area, he serves as group or common counsel to several multiparty Superfund groups in several of the nation's largest Superfund Sites.
Dragna has worked on some of the nation's most complex environmental proceedings, working with his clients to develop broad based litigation and settlement strategies. He has served as coordinating counsel in the multi-district litigation involving the explosion and release of hydrocarbons from the Deepwater Horizon drilling rig into the Gulf of Mexico, the multi-claim and multi-party proceedings involving the release of methane from the Aliso Canyon gas storage facility in Porter Ranch.
ANN MARIE MORTIMER: Hunton & Williams LLP - Managing Partner, Los Angeles Office
With an established track record as an elite litigator, Ann Marie Mortimer ranks among the premier attorneys in California for her work in crisis litigation. One of only a handful of female managing partners in California, she has established herself as a bona fide and charismatic leader, also spearheading the firm's prestigious energy and environmental litigation practice and bringing forth a 20-year track record of courtroom success.
Throughout her career, Mortimer has handled, and still continues to handle an impressive volume of complex and high profile cases. In her practice she focuses on complex business claims, environmental tort claims and litigation risk from regulatory investigations. She has successfully represented aerospace corporations, product manufacturers and pharmaceutical companies in a variety of lawsuits involving environmental, Comprehensive Environmental Response, Compensation, and Liability Act (CERCLA) and toxic tort multi-party litigation. She has tried – and successfully litigated – cases in both federal and state courts all across California.
PATRICK J. FOLEY: Lewis Brisbois Bisgaard & Smith LLP - Partner
Patrick Foley is a partner in the Los Angeles office of Lewis Brisbois and vice-chair of the Toxic Tort & Environmental Litigation and Asbestos Litigation Practices. He focuses his practice on the defense of manufacturers, retailers, suppliers and premises owners in toxic tort and environmental litigation. Foley also routinely handles matters involving mass torts, general liability, product liability and professional malpractice. He has regularly represented Fortune 100 and 500 companies in toxic tort, environmental, and product liability actions.
Examples of Foley's experience includes representation of corporations in groundwater contamination cases nationwide; serving as California Counsel for Fortune 100 Companies in asbestos and benzene litigation; and serving as California Counsel for manufacturer/distributor of chemical solvents and related products containing Benzene (Judicial Council Coordinated Proceedings and other actions).
For reprint and licensing requests for this article, CLICK HERE.