Sports Titans: Stan Kroenke
Friday, February 2, 2018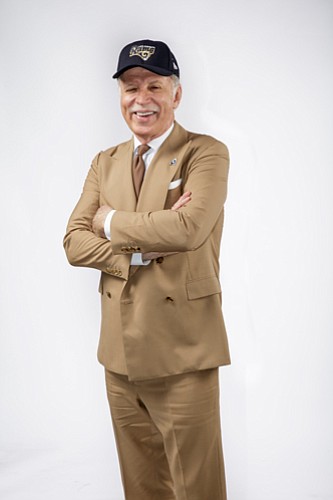 Stan Kroenke has a knack for turning things on their head.
He married into the family that owns Wal-Mart Stores Inc. but made his own fortune developing real estate around the retail giant's stores.
He owns a franchise in the National Football League, purveyor of the ultimate contact sport, but also invests in an e-sports team whose players never make physical contact with opponents in pursuit of victory.
He hails from Missouri, the "Show-Me State," but he's bound and determined to show fans of his Los Angeles Rams that he's fully committed to this market.
How determined?
He's putting $3 billion into the L.A. Stadium & Entertainment District at Hollywood Park in Inglewood. A 70,000-seat stadium will anchor the project, but also on the drawing boards is a 6,000-seat performing arts center, 780,000 square feet of office space, 300 hotel rooms, 2,500 residential units and 890,000 square feet of retail space, among other features.
Inglewood comes around
And add this to Kroenke's penchant for turning things on their head: Inglewood grabbed national headlines in 2004 when voters in the city rejected a ballot initiative that would have cleared the way for a 60-acre Wal-Mart-anchored shopping center.
"Look, I've been around that game a long time," Kroenke said of the history in Inglewood. "Wal-Mart [is] obviously a big family investment, and I've been around that ever since I was a very young guy in college and graduate school. I've watched that thing evolve from a very small business – which is a wonderful thing in America. That business was about $30 million a year when I first got to know [the Walton family], and made $700,000 in [annual] profit. And there was no real magic to it except they just did things more efficiently – and because of that there are a lot of studies in that regard as to how they would be efficient for the sake of the consumer saving money. But then they became the big guy, and you know how that is in the world – bigness is never trusted. And so I think at that point they started being looked at differently. Now you sort of have Amazon, who's always been sort of the darling, so it will be interesting to see how Jeff [Bezos] handles all that – and I'm sure he'll be brilliant with it, like he has been with everything else."
So how is the community greeting the biggest thing to happen in Inglewood since the Lakers and Kings left the Forum?
"People like to polarize things all the time, but I see things being 80-20 or 70-30, and then you start talking and maybe you work things out," Kroenke said. "I think that people in Inglewood have been wonderful to us. I couldn't speak highly enough about how they've handled anything that we've been involved with. When I came in [Inglewood Mayor James Butts'] office, and I was sort of under the radar – it was maybe August of 2013 – I started telling him who we were, telling him what we do, and the mayor says 'I know all about you, and not just your sports stuff. What do you need? We're here to help you.' He made me feel really comfortable. He had his masters [degree] in business, and he gave me a lot of confidence, and he never has broken that confidence – so I think we're going to have a very successful project, and we're well on our way."
Project plans
The dustup over Wal-Mart at the ballot box back in 2004 might have started Kroenke on his way to moving the Rams from St. Louis to Inglewood – a process that began in earnest several years later, as the National Football League got more serious about bringing a team to the Los Angeles market.
"I was on the [the league committee overseeing the process] for a long time, and we looked at lots of different locations [in Southern California], and all of them had their pluses and minuses," Kroenke said. "But I've spent most of my adult life being a real estate developer and still do a lot of it, and it was clear to me that that was a unique site. It's an amazing fact that there would be 300-plus acres sitting in the middle of L.A."
Kroenke set the wheels in motion with the purchase of 60 acres where the stadium is now rising. He turned things on their head once again when teamed up with San Francisco-based Stockbridge Capital, the owners of the 238-acre Hollywood Park site to meld the visions of football and mixed-used development on the site.
What's next for Kroenke and Inglewood?
The city recently acknowledged that the L.A. Stadium & Entertainment District is the centerpiece of its bid to land the second headquarters of Amazon.com Inc., the e-commerce behemoth of Kroenke's fellow billionaire Bezos.
Amazon's search has set off a national frenzy to land the estimated $5 billion project, which promises 50,000 jobs spread over 8 million square feet of commercial space.
Conventional wisdom has consistently weighed in against the likelihood of the company setting up another headquarters on the West Coast.
Yet the L.A. market made the first cut of the competition, when Amazon winnowed the field from 238 locales.
That still leaves 19 other markets – and eight other bids within the L.A. market alone – to compete with Inglewood.
Only time will tell if those odds can be turned on their head.
For reprint and licensing requests for this article, CLICK HERE.