Mogul Moves on Hollywood Hospital
Friday, February 2, 2018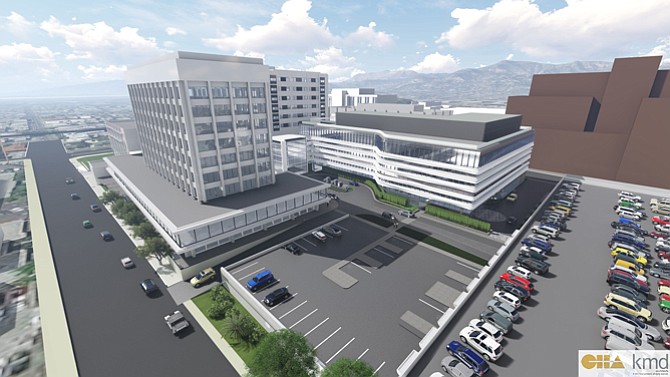 A South Korean fertility specialist who's built a medical enterprise that ranges from hospitals to skin care products for sale at department stores has started on a $310 million makeover of 93-year-old CHA Hollywood Presbyterian Medical Center.
The project comes under the umbrella of CHA Healthcare Co. Ltd., a global company founded by Dr. Kwang Yul Cha. The group also owns six hospitals, 10 biotechnology firms, two specialty clinics, numerous fertility clinics, a medical university and a cell and gene therapy institute in South Korea.
The group operates a series of wellness centers that include medical diagnostic and spa services, with locations set to open in Armenia and Australia.
It also owns a Saturday Skin cosmetics line available in Nordstrom and Bloomingdales.
Work started last week on a medical tower that will be the centerpiece of the 10-acre CHA Hollywood Presbyterian campus at Vermont and Fountain avenues in East Hollywood. The five-story 137,000 square-foot tower will include an emergency room, a surgery floor, labor and delivery services, a neonatal intensive care, and kitchen and other support services.
The 434-bed hospital will continue to operate its current emergency room and other facilities during construction.
A $20 million parking garage with more than 560 spaces also is under construction, and could eventually include a $29 million medical office addition.
Completion is expected by 2020.
"Right now, we're breaking ground – I've got tractors right outside my window," said Robert Allen, CHA Hollywood Presbyterian's chief executive, last week. "What it does is help the community. In the past year, I've watched our ER visits grow by 10 percent."
The broad ambitions of the first South Korean-owned and -operated general hospital in the U.S. announced plans in 2016 for what was then a $200 million expansion. The project has since added features to expand the range of medical services, taking the budget up by $110 million.
The expansion will combine new buildings and upgrade some older buildings on the campus to meet state requirements for seismic safety for portions of the original hospital, which dates back to the early 1920s and remain in use. Its north and south wings, as well as its central tower, have been deemed likely to topple in the event of a major earthquake.
The hospital is now completing an $8.5 million seismic retrofit for parts of the older hospital.
The project's main tower, designed by KMD Architects, will rise just east of one medical building that will remain in use.
The emergency room slated for the new tower will take up 26,000 square feet, up from 11,000 at the current facility, with 26 beds, an increase of 6.
The tower also will include 11 labor and delivery rooms, three C-section rooms, 19 neonatal intensive care unit beds and a post-partum unit.
CHA Hollywood Presbyterian Hospital is owned by CHA Health Systems, a U.S. subsidiary of CHA Healthcare Co. Ltd., based in Seoul.
The hospital here employs 1,400 with a medical staff of more than 500.
Allen, who until last summer served as chief financial officer for Keck Medicine of USC, said funding for the expansion will come from a $200 million loan from an undisclosed lender. The remainder will come from hospital operations here and Cha's enterprises in South Korea.
Cha has generated controversy in his native country, according to news reports in South Korea, where authorities last year alleged some of his family members had received "unauthorized therapy using donated cord blood."
CHA bought Hollywood Presbyterian Hospital from Tenet Healthcare Corp. in 2004. It also owns the CHA Fertility Center in the Miracle Mile district.
About one in five patients served by the hospital, which posts signs in four languages, is Korean-American.
For reprint and licensing requests for this article, CLICK HERE.