Home Court Advantage
Airbnb's public policy manager in L.A., John Choi, keeps an eye on the local terrain as the company expands its focus
Monday, December 31, 2018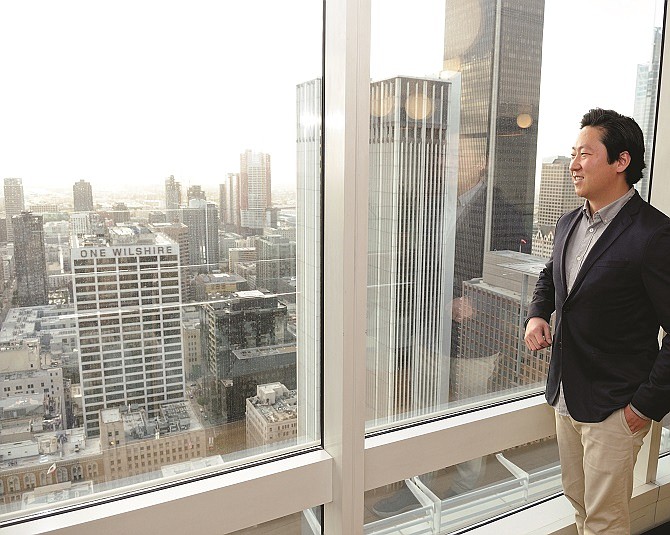 John Choi's office in Los Angeles is in a WeWork space with an impressive view of downtown. It's fitting that the man who serves as Airbnb's liaison to the local community commands a panoramic view of a city that is home to 19,000 Airbnb hosts and draws 1.6 million guests each year.
Since it was founded in 2008, the company has raised $4.4 billion and could be headed for an IPO in 2019.
Choi joined Airbnb as public policy manager more than two years ago, coming to the Bay Area-based home-sharing company after a career spent working in public policy for politicians such as Kevin de Leon and Antonio Villaraigosa and organizations such as the Los Angeles County Federation of Labor, AFL-CIO.
After the Business Journal's interview with Choi, the Los Angeles City Council on Dec. 11 unanimously approved a set of regulations for short-term housing, which require hosts to register their properties with the city and limit the number of days homes can be rented annually without special permission. Short-term rental platforms, such as Airbnb, must ensure all properties listed on their sites are registered with the city and do not exceeded the 120-day annual rental limit.
Rent-controlled properties are also prohibited from being offered on the short-term rental market. In L.A., more than 600,000 rental properties are subject to the city's rent-control laws.
The new regulations go into effect in July.
Immediately following the City Council's Dec. 11 vote, Airbnb did not respond before press time to requests for updated comment about the new L.A. regulations and how they would impact the company's business operations in the city.
Airbnb did, however, issue a generic statement after the vote urging the city to quickly create a separate ordinance regarding vacation rentals. The city council has said it plans to develop separate requirements for vacation rentals, and it will also consider exemptions to the rent-control property ban.
Choi sat down with the Los Angeles Business Journal in November to discuss his role with Airbnb and the company's plans for the future.
How important is the L.A. market to Airbnb?
L.A. is a world-class city and a destination for travelers from all over the world. Our presence in Los Angeles has meant over $85 million in new taxes remitted to the city that is going to fund important things like services for the homeless, services for our roads and public safety infrastructure. When a guest stays in (the) San Fernando Valley or South L.A. or on the Eastside, those are dollars that are going into the pocket of that homeowner, but also our guests spend more than half of the dollars of their trip in the local neighborhoods that they're staying in. For example, last year $330 million (was) spent in local restaurants all over the city – some certainly in high tourist zones like Hollywood and near the coast but also in areas that don't typically have that sort of benefit.
Prev Next
For reprint and licensing requests for this article, CLICK HERE.