USC Search Faces Hurdles
EDUCATION: Biz school leaders in short supply
Friday, December 21, 2018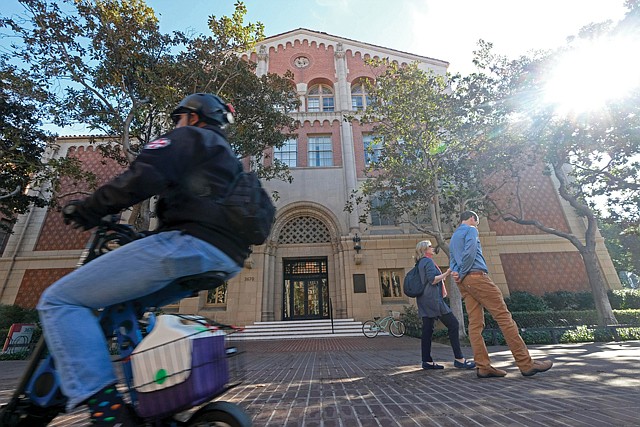 With the recent ouster of James Ellis as dean of the USC Marshall School of Business effective in June, USC is now set to join UCLA's Anderson School of Management and several other top-tier business schools across the nation in looking for new deans.
The intense competition for deans at high-profile business schools is likely to make the search for a new dean to head the Marshall School more difficult and take longer – possibly well over a year.
And whoever emerges to take on the dean's job will have a tough task. Not only will a new dean have to manage the Marshall School faculty and curriculum in an era of broad-based declines in enrollment in traditional MBA programs, but they will also have to try to heal the divisions on campus, and between the university and L.A.'s business community brought about by interim President Wanda Austin's decision to fire Ellis as dean.
"Where are they going to get this miracle dean from? And even if they can find a candidate who meets all of the qualifications, will that person want to take on this job given the political environment there?" said Stephanie Bryant, chief accreditation officer with the Association to Advance Collegiate Schools of Business in Tampa, Fla. Bryant was dean of the College of Business at Missouri State University in Springfield, Mo., from 2011 until she stepped down last year.
More requirements
Bryant said the requirements for business school deans have grown significantly over the past decade. Traditionally, the dean hires faculty, sets the course curriculum – including adjustments to degree programs – sets general research guidelines for the faculty and manages the day-to-day operations of the business school. But now, she said, deans have a whole new "outward facing" layer of responsibilities.
"Business school deans are now expected to be fundraisers, deal with advisory councils and external bodies, be more engaged in the local business community and, in general, do things that raise the profile of the business school and the university," she said. "It's become a different kind of job with a different kind of skill set and, when combined with the traditional requirements, is much more difficult to navigate."
Complicating this in the case of USC is the divide that emerged between the faculty and many donors and members of the Marshall School's advisory council on one side, and the university administration on the other side over Ellis' dismissal from the dean's post. The university administration, citing a confidential report, said Ellis needed to do more to address bias and discrimination claims lodged against faculty while faculty and Ellis supporters say such claims are handled through other channels within the university. Exactly what a future Marshall School dean's responsibilities will be in this area has yet to be worked out, which is another potential source of uncertainty for future candidates.
Deans sought
USC spokesman Eddie North-Hager said late last week that decisions on how to proceed with a search for Ellis' successor and what the requirements for a new dean will be will likely be made after the new year − as would an announcement concerning an interim dean.
But prior to this looming vacancy, 83 business schools across the country had posted notices this year seeking new deans, up 18 percent over 2017, according to figures provided by the Association to Advance Collegiate Schools of Business. Among these are several top-tier schools, including the UCLA Anderson School of Management; Evanston, Ill.-based Northwestern University's Kellogg School of Management; New Haven, Conn.-based Yale University's School of Management; Notre Dame University's Mendoza College of Business near South Bend, Ind.; and Cornell University's SC Johnson College of Business in Ithaca, N.Y. (Cornell chose a new dean in October.)
Besides UCLA Anderson, one other local business school had a dean search earlier this year: Cal State Fullerton's Mihaylo College of Business and Economics made its choice in September.
UCLA Anderson's dean vacancy emerged in January when Judy Olian announced she would step down in June to become president of Quinnipiac University in Hamden, Conn. Longtime Anderson faculty member Alfred Osborne Jr. stepped in as interim dean on July 1. UCLA officially posted the permanent dean job and formed a search committee in May and, at the same time, hired Century City-based Korn Ferry International to help recruit candidates.
UCLA spokesman Tod Tamberg said last week the university had no comment on the status of the search for a new dean. He also declined to comment on whether Osborne was in the running for the permanent post.
Bryant, of the Association to Advance Collegiate Schools of Business, said it typically takes about a year to fill a business school dean post. But she said the search for a new dean for USC's Marshall School could take longer for several reasons.
"Right now, with an interim president at USC, candidates being considered for the Marshall dean post might prefer to wait until a new president comes on board before committing," Bryant said. "And the university itself may prefer to wait until a new USC president takes office before launching a search."
She said the unusually large number of top tier schools looking for new deans could also lengthen the search process.
"There's a very small pool of candidates for these top-tier business schools, so the competition is likely to be very stiff," she said. "And then there's the diversity issue."
Finally, she said, the complex political environment now at USC could also be a factor.
"A new dean will be coming into an environment where there have been a lot of problems recently, and that could prompt some candidates to consider very carefully whether to accept the post," she said.
Chief among Ellis' supporters has been Lloyd Greif, a major USC donor and chief executive of Greif & Co., a middle-market investment bank headquartered downtown.
Greif, who gave $5 million toward the establishment of the Lloyd Greif Center for Entrepreneurial Studies at the Marshall School, said he is very concerned about the current environment and the selection process.
"The surest way to heal the divide would be to reinstate Dean Ellis, who has the virtually unanimous support of his faculty, staff, students and alumni," he said in an email response. "Short of that, his successor would have to be chosen through a deliberative, thorough national search and should reflect the first choice of a search committee consisting of the Marshall School's faculty, staff, alumni, other deans, and one or more members of the Marshall School's Board of Leaders."
Greif said any new dean would have a daunting task to follow after Ellis and to heal the divide. He described Ellis as one of the best deans the Marshall School has had and said any new dean will need the same qualities Ellis has displayed.
"It's going to take a long time – Jim Ellis left awfully big shoes to fill, and the deep scars resulting from the lack of transparency, due process and shared governance marking the dean's dismissal will be visible for years to come," he said in the email response.
Ellis ouster
Ellis joined the USC Marshall School faculty in 1997 after a previous career as a serial entrepreneur; he was briefly USC's vice provost for globalization before taking over as dean in 2007, serving two five-year terms and recently winning reappointment to another five-year term. He has been credited with raising the Marshall School's profile, improving its standing in national rankings (No. 20 in the most recent U.S. News & World Report business school ranking released in September) and boosting the school's ties with the local business community.
In the current academic year, according to Business Journal lists that ran in September, USC's Marshall School had 610 full-time students and 725 part-time students enrolled in MBA programs, along with 1,075 students enrolled in a range of Master of Science degree programs.
Last month, Austin, USC's interim president, chose to end Ellis' dean role effective in June, citing concerns raised in an internal report over handling of discrimination claims lodged against Marshall faculty. The concerns came amid a backdrop of several scandals that have rocked the university, including the handling of sexual harassment complaints against former campus gynecologist George Tyndall and allegations of inappropriate conduct by former USC Keck School of Medicine Carmen Puliafito.
When Austin's decision to force Ellis from the dean's post became public earlier this month, it sparked a campaign by Ellis supporters among faculty, students and major university donors to try to get the decision reversed. The campaign included rallies on campus, petitions and letter-writing; Ellis supporters also took to the local media to make their case.
But on Dec. 12, the USC Board of Trustees voted overwhelmingly to support Austin in her decision to end Ellis' tenure as dean at the end of the academic year. Ellis' personal attorney, Louis "Skip" Miller, partner with Century City law firm Miller Barondess, said after the decision that he and Ellis would take the holiday break to assess whether to contest the university's decision.
For reprint and licensing requests for this article, CLICK HERE.