USC Search Faces Hurdles
EDUCATION: Biz school leaders in short supply
Friday, December 21, 2018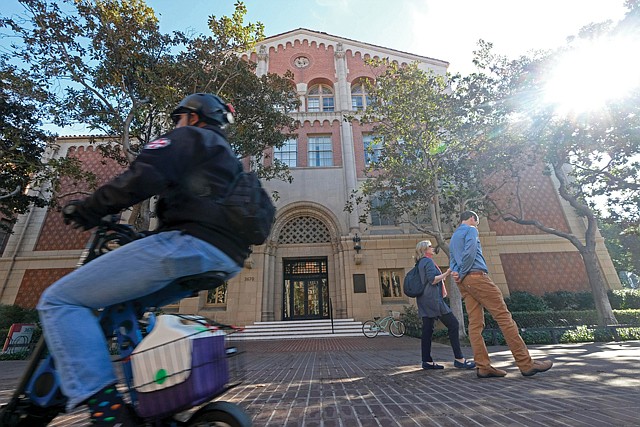 With the recent ouster of James Ellis as dean of the USC Marshall School of Business effective in June, USC is now set to join UCLA's Anderson School of Management and several other top-tier business schools across the nation in looking for new deans.
The intense competition for deans at high-profile business schools is likely to make the search for a new dean to head the Marshall School more difficult and take longer – possibly well over a year.
And whoever emerges to take on the dean's job will have a tough task. Not only will a new dean have to manage the Marshall School faculty and curriculum in an era of broad-based declines in enrollment in traditional MBA programs, but they will also have to try to heal the divisions on campus, and between the university and L.A.'s business community brought about by interim President Wanda Austin's decision to fire Ellis as dean.
"Where are they going to get this miracle dean from? And even if they can find a candidate who meets all of the qualifications, will that person want to take on this job given the political environment there?" said Stephanie Bryant, chief accreditation officer with the Association to Advance Collegiate Schools of Business in Tampa, Fla. Bryant was dean of the College of Business at Missouri State University in Springfield, Mo., from 2011 until she stepped down last year.
More requirements
Bryant said the requirements for business school deans have grown significantly over the past decade. Traditionally, the dean hires faculty, sets the course curriculum – including adjustments to degree programs – sets general research guidelines for the faculty and manages the day-to-day operations of the business school. But now, she said, deans have a whole new "outward facing" layer of responsibilities.
"Business school deans are now expected to be fundraisers, deal with advisory councils and external bodies, be more engaged in the local business community and, in general, do things that raise the profile of the business school and the university," she said. "It's become a different kind of job with a different kind of skill set and, when combined with the traditional requirements, is much more difficult to navigate."
Complicating this in the case of USC is the divide that emerged between the faculty and many donors and members of the Marshall School's advisory council on one side, and the university administration on the other side over Ellis' dismissal from the dean's post. The university administration, citing a confidential report, said Ellis needed to do more to address bias and discrimination claims lodged against faculty while faculty and Ellis supporters say such claims are handled through other channels within the university. Exactly what a future Marshall School dean's responsibilities will be in this area has yet to be worked out, which is another potential source of uncertainty for future candidates.
Prev Next
For reprint and licensing requests for this article, CLICK HERE.