Macquarie Capital Provides $100M in Debt Financing for SoCal Ed Battery Storage
Friday, December 21, 2018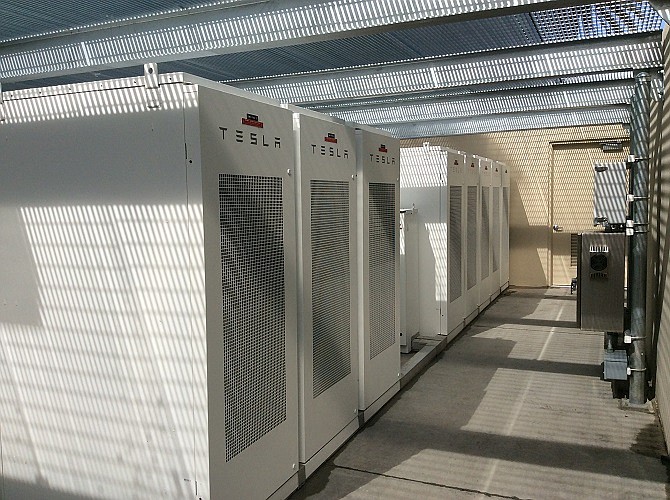 An arm of Australia-based Macquarie Group closed on $100 million in debt financing to build a network of battery storage sites in western Los Angeles and surrounding counties designed for certain electricity-constrained areas in Southern California Edison's service territory.
SoCal Edison is the electric utility unit of Rosemead-based Edison International
Macquarie said that the debt funding is part of a 52-megawatt (MW) project for SoCal Edison in the West Los Angeles Basin, which is a sprawling area bounded by the Santa Monica mountains to the north and Santa Ana mountains to the southeast.
A Macquarie spokesman could not immediately say where the battery storage sites would be constructed, though he pointed to several previously already built at 21 Irvine Company-owned high-rises in Orange County.
The planned battery storage sites – which include huge battery pack systems supplied by San Carlos, Calif.-based Tesla – are capable of generating 315 megawatt hours (Mwh).
A megawatt is a unit for measuring power that is equivalent to one million watts. One megawatt is equivalent to the energy produced by 10 automobile engines, according to an electricity trade group.
A megawatt hour is equal to 1,000 Kilowatt hours (Kwh), or enough electricity used continuously for one hour. It also is about equivalent to the amount of electricity used by about 330 homes during one hour.
New York-based CIT Group Inc., which led the initial financing through its Energy Finance unit, also was the lead investor in the refinancing, joined by Dutch banking company Rabobank and downtown-based Sumitomo Mitsui Banking Corp.
The energy storage systems, which are located at various large commercial, industrial and government power users in Los Angeles and Orange counties, will be tapped to store power, provide back-up generation and help in voltage management over the electrical grid.
As part of the project, Irvine Ranch Water District and Macquarie Capital, the corporate advisory arm of parent Macquarie Group, completed in June the nation's largest energy storage system to run the district's largest water recycling plant. Macquarie Capital bought the portfolio of battery storage systems from San Francisco-based Advanced MicroGrid Solutions Inc. in August 2016.
Finance reporter Pat Maio can be reached at pmaio@labusinessjournal.com or (323) 556-8329.
For reprint and licensing requests for this article, CLICK HERE.