BUILDING BUDS
Downtown office project plans all-cannabis company lineup
Friday, December 21, 2018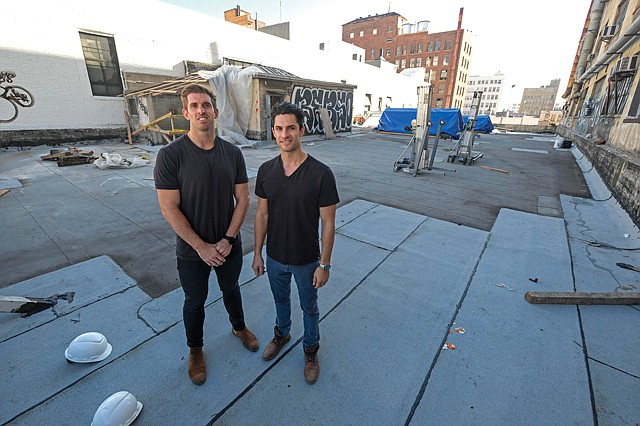 Marijuana may be legal in California, but that doesn't mean companies in the industry are finding it easy to make a home here.
One of the hardest obstacles to overcome is finding real estate. Pot sellers, some say, are willing to pay a premium for space to grow and sell marijuana. Others associated with the industry, from law firms to marketing groups, have also faced negative reactions from landlords when looking for space to occupy.
"People assume tenants are flaky, or the business is more high risk," said Joshua Shelton, the co-founder of Green Street Agency, a group offering creative services to cannabis companies.
But it's also presenting opportunities for savvy investors, and Shelton, who is also a lawyer for pot outfits, is trying to capitalize.
Along with Bow West Capital, Green Street is offering a solution to space-hungry cannabis firms − a downtown building completely devoted to the cannabis industry. The 67,000-square-foot building is located at 718 S. Hill St., and tenants are expected to start occupying the building in the first quarter of 2019. The building is 95 percent leased already, according to Shelton, and will feature a dedicated floor operating as a co-working space run by Green Street.
"Our guys are just happy they have real architecture and real landlords," Shelton said. "They know they can build some roots here."
Companies taking office space at the new development include Timeless Vapes, which makes cannabis products; Dab Nation, which sells products like vaporizers and rolling paper; and Zzz Natural, which focuses on cannabis as a sleep aid. These brands will use the building as a showroom and place to do backend business, not as a retail location for cannabis products, Bow West Capital President Sean Beddoe said.
Beddoe added that the venture is currently restoring what they can of the more than 100-year-old building, which will be smoke-free and geared toward executives.
"We're very carefully curating the building to get the best of the best in the industry," Beddoe said. "This is the first project of its kind, and we want to make sure only the best of the best are included."
The building was purchased in 2017 for $14 million. Its remodel is being done by M-Rad Inc.
"We are trying to make it a more luxurious place, so we can give life to these companies whose revenues are strong," M-Rad Chief Executive and founder Matthew Rosenberg said.
For reprint and licensing requests for this article, CLICK HERE.
Prev Next