Fashion & Beauty Awards: Three Skincare Trends to Watch
Custom Content by the Los Angeles Business Journal
Thursday, December 13, 2018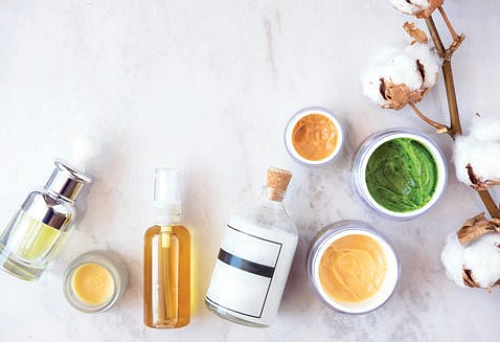 Today's beauty consumers seek natural, environmentally safe choices that produce results comparable to those with artificial ingredients. To meet this demand, three distinct trends will help shape the beauty market:
NEW TEXTURES AND SENSATIONS
Transformation is the name of the game for customers — particularly Millennials — who crave something new. Beauty creators must provide options for customers willing to take chances on unusual products.
Some new beauty products change from gel to powder or from powder to cream. To add extra layers of interest to products makes jelly masks in jars and color-changing foams.
While beauty brands offer these products in take-home form, spas can offer them in-house. This lets spas cater to customers who want natural beauty products and lets customers sample products they might not otherwise purchase.
WATER ALTERNATIVES
Most of us take water for granted, but natural beauty products are turning this common substance into a skincare luxury.
Some beauty brands are combining gemstones with water to offer mineral- and energy- based solutions to audiences who are eager for natural options. Others have created a fermented skin care niche, with ingredients like apple cider vinegar and rice wine to create smoother skin, and fruit- and floral-based products as freshwater alternatives.
Natural beauty consumers love the purity of water-based products, but they also understand the importance of water conservation. Therefore, companies are transforming traditionally water-based products into soothing serums and sprays, textured masks, and overnight creams.
These water-mimicking products include hydrating and toning watermelon water, antimicrobial and antifungal coconut water, and anti-inflammatory cactus water. These sustainable offerings are perfect for spas that serve eco-conscious clients and let brands build sustainability into their stories.
ANTIPOLLUTION
Eco-conscious consumers are often concerned with reducing pollution on their skin, not just in the air and water.
So they'll seek products containing Marrubium vulgare (horehound), which protects the skin against environmental damage, and garden cress sprout, which guards the skin against pollutants to fight visible signs of aging. Other ingredients help remove heavy metals from the skin. These products are perfect for beauty consumers living in urban settings or working in pollution-heavy fields.
The more advanced our society becomes, the more interest in natural skincare solutions. Spas, beauty creators, and other industry influencers who get ahead of these trends may enjoy a competitive advantage.
This article was written by Warren Becker, a member of the Professional Beauty Association and chief operating officer of Cosmetic Solutions, recognized worldwide as a leader in the formulation and manufacture of turnkey private label skin care and personal care products. Cosmetic Solutions' natural, scientifically proven offerings are used by renowned skin care leaders and physicians, established cosmetic brands and up-and-coming entrepreneurs to help customers achieve results. Becker holds an MBA in International Business from the University of Miami and has partnered in the success of hundreds of health and beauty brands.
Learn more about the Professional Beauty Association at probeauty.org.
For reprint and licensing requests for this article, CLICK HERE.