Fashion & Beauty Awards: Supplier of the Year Finalist
Custom Content by the Los Angeles Business Journal
Wednesday, December 12, 2018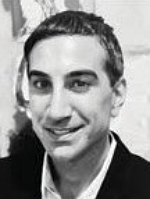 ANGELO GHAILIAN
ASTROLOGIE CALIFORNIA/AJG, INC.
Astrologie, the Los Angeles-based full-package apparel production company, provides its customers with trendright design, unsurpassed quality, competitive pricing, dependability and speed to the market.
Astrologie was founded in 2003 by Angelo Ghailian, a Los Angeles native with an MBA from USC, who brings two generations' worth of know-how, solid overseas connections, and a dedication to keeping all parts of the process from design to manufacture – domestic whenever possible. Astrologie has grown from a cut-and-sew manufacturing operation, supplying other manufacturers who sold to retail stores, to its position today – a vertically integrated, complete package garment-production company. Throughout these 15 years, Astrologie has become very proficient manufacturing, sourcing and designing women's clothing. Astrologie's specialty is fashion novelty tops with a California feel with athleisure and dresses becoming key growing items.
For reprint and licensing requests for this article, CLICK HERE.